Stepping Out of Line to Improve Education
by Ashley Hollern
Have you ever found yourself waiting in a line that seemed endless, where those behind you were so impatient that you were repeatedly bumped or nudged? Those impatient nudges are a manifestation of frustration with an obviously ineffective system. What can you do?
This scenario is a relevant parallel to the experience of teaching in our current school systems. I recognized early in my teaching career that the students were eager to learn, but our educational system wasn't making it easy… or interesting, or fun. That situation is still prevalent today. Teachers are growing impatient, seeking better options for student engagement, and asking for help.
I have been teaching for 17 years. In my third year teaching, I lost patience with standing in line. As the wait grew, so did the nudges from students eager for more opportunities, for growth, and for engagement in the learning experience. To clarify, I've never been a stand-in-line type of person, so I stepped out of line and began developing options for my students that could ensure their ownership of learning. At that time, technology (websites, apps, social media) had become easily accessible to most people. Students were able to research and curate content and create their own content. I chose to run with it and did what I could to enable students to take more of an active role in their own learning.
Having students chronicle events that start local but have global consequences, opened the door to experts, applied studies/ talents, and a better understanding of the role they wanted to own and showcase. I learned more about my students and was able to make connections related to content through their desire to apply their skills/ interests via podcasts, film, social media, research writing, art/ design, applied math skills, or 3D printing. This approach was rewarding for the students but was equally rewarding for me. I developed a number of helpful guides to organize their work and help each student engage. I also gathered a large number of experts and organizations eager to help teachers, but unknown to most educators.
For the past 17 years, I have worked to provide opportunities to my students that link purpose to content while focusing on the students' own interests and talents. In 2017-18 I launched the @PBDACoralProject at Palm Beach Day Academy. It was nominated for the Program of the Year in Palm Beach Illustrated Education Awards and was featured in Palm Beach Magazine. A documentary was created about the project. It aired on PBS in the fall of 2020.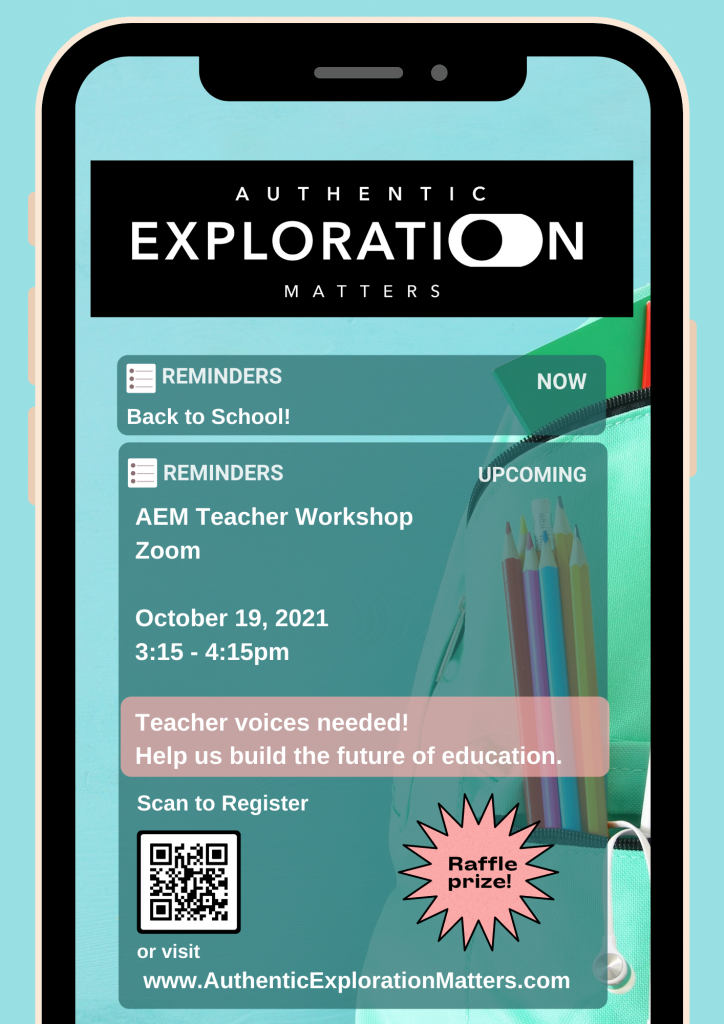 In 2017 I started working on an idea to help teachers make similar opportunities a reality. I know all too well that these opportunities don't just happen. They require a significant time investment to search and gather resources and develop lessons, and often there are no funds available. Therefore, to help teachers step out of line and skip the time, cost, and labor (on top of their full-time jobs), I began developing a non-profit called AUTHENTIC EXPLORATION MATTERS (AEM).
In 2020, I met Kirstin Cowan and immediately resonated with her positive personality, and genuine passion to make opportunities happen for teachers and students. As a National Geographic Certified Educator, Climate Reality Corps member, and long-term substitute teacher, Kirstin resonated with the demands that teachers face. One recurrent theme was that they wanted their voices heard and they wanted more opportunities to provide engaging learning experiences for their students. Kirstin and I want to share the progress we've made.
In 2021, my students at Windermere Preparatory school won first place in the Earth Echo International challenge and received $5,000 to fund the research project. I tell you this to make it clear that all students could experience similar learning successes. For a variety of reasons, many teachers are still standing in line, and they don't need to be.
The mission of AEM is to provide a trustworthy, safe, free web-based platform for teachers who seek to promote innovation, collaboration, experiential learning, and inspiration through highly vetted science resources and experts.
Our vision is for teachers to have the tools to engage all students in relevant and purposeful content; evolving classroom learning with a systems thinking approach.
We will be sharing our vision (more details concerning the what and the how) at Stepping Out of Line on October 19th from 3:15 to 4:15 pm to learn more about opportunities for student engagement, AEM, and how you can help us help you!
Please CLICK HERE TO REGISTER. It's free.