Texas Blackouts Due to Deregulated Energy Market
This is the Feb. 18, 2021, edition of Boiling Point, a weekly newsletter about climate change and the environment from the LA Times.
As a deadly winter storm plunged millions of Texans into darkness this week, politicians skeptical of climate change and loyal to the oil and gas industry did what they do best: They blamed renewable energy. Texas Gov. Greg Abbott told Fox News host Sean Hannity that the power grid emergency "shows how the Green New Deal would be a deadly deal for the United States of America." Colorado Rep. Lauren Boebert tweeted that the Green New Deal "was just proven unsustainable as renewables are clearly unreliable."
None of that prepared me for the reaction from former Texas Gov. and former U.S. Energy Secretary Rick Perry, who suggested Texans would be happy to live without power for longer than three days to avoid federal regulation of their electric grid. I'll leave Perry's comments for you to judge. But as for the idea that the renewable energy is to blame for Texas and parts of other states running out of electricity, that's pure fiction.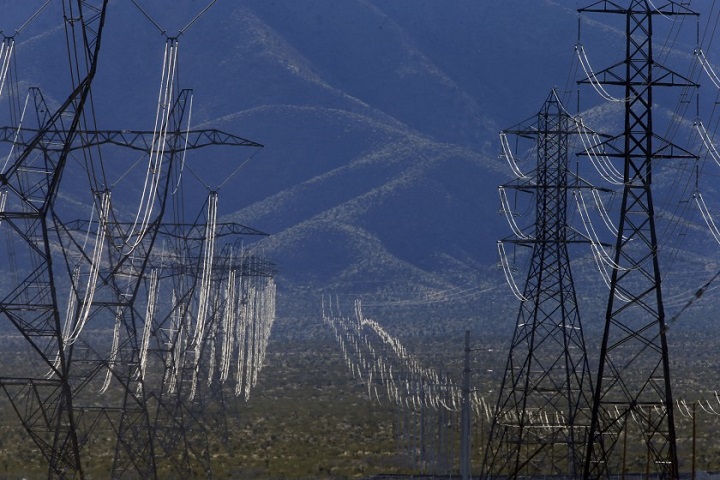 Los Angeles Times
Most of the power generators that have found themselves frozen solid or unable to access fuel aren't wind turbines, but rather coal- and gas-fired power plants — in other words, fossil fuels. The very fuels that scientists say need to be phased out to avoid the worst consequences of a climate crisis that is exacerbating all kinds of extreme weather.
Texas's main power grid, known as ERCOT, got 23% of its electricity from wind last year. But most of the rest came from coal and gas. Texans would not be suffering in such great numbers right now if all those traditional power plants had done their job.
The ongoing power emergency is a "systemic failure," said Daniel Cohan, an atmospheric scientist at Rice University in Houston. Texas officials didn't require energy infrastructure to be upgraded to withstand freezing temperatures, despite similar problems during past cold spells. They allowed homes to be built to standards that leak too much heat. And they chose to operate their electric grid in isolation from the rest of the country, a decision that Times columnist Michael Hiltzik doesn't think was wise.
"Every one of our sources of power supply underperformed. Every one of them is vulnerable to extreme weather and climate events in different ways. None of them were adequately weatherized or prepared," Cohan wrote in a Twitter thread.
One possible reason most of Texas has been hit so hard is ERCOT's deregulated energy market. I won't get into all the details, but critics say the state's approach doesn't give power companies sufficient financial incentive to ensure reliability. So just like California's rolling blackouts last summer resulted from a range of causes — including a climate-fueled heat wave, poor planning by state regulators and faulty market design — so, too, are the forces at work in Texas nuanced.
Clean-energy activists are pushing for building codes that require all-electric heating and cooking, because burning gas contributes to climate change and indoor air pollution. The gas industry has pushed back, arguing its product helps to keep energy affordable and can often be counted on when the electric grid is down.
The American Gas Assn., an industry trade group, said utilities delivered more gas Sunday and Monday than in any previous two-day period, as frigid temperatures across the U.S. drove up heating demand. The group cited a recent report from the American Gas Foundation, which made the case that gas has been a reliable energy source during polar vortexes, hurricanes and fires.
"We think it's a shortsighted policy to ban any form of energy," Karen Harbert, president of the American Gas Assn., told me. "Every customer is different. Every customer's needs are different. And we shouldn't be limiting choice."
Still, the natural gas grid is far from perfect.
In Texas this week, gas wells froze and pipelines struggled to move as much fuel as normal, contributing to skyrocketing energy prices and electricity shortages. California has suffered disruptions on its gas grid too, most notably the methane blowout at the Aliso Canyon gas storage facility and the San Bruno explosion that killed eight people. There was also the lesser-known explosion of a gas pipeline running through the desert east of Los Angeles in 2017, which cost California ratepayers at least $1 billion.
And though buried gas pipelines are less vulnerable to extreme weather than aboveground electric wires — and less likely to ignite deadly wildfires, as Californians have learned — the gas and electric grids are increasingly interdependent.
Gas is now the country's largest fuel source for generating electricity, having surpassed coal in 2016. That means there's growing competition for gas each winter — including in a state like Texas, where 61% of homes rely on electricity for heating and most of the rest use gas. Gas utilities typically cut off deliveries to electric power plants before forcing households to go without fuel.
I spoke last October with John Moura, director of reliability assessments at the North American Electric Reliability Corp., a nonprofit regulatory agency. He told me the electric grid faces greater risks during winter than summer these days — in part because of that competition for gas between homes and power plants, and in part because of increasingly "schizophrenic" weather extremes.
"Wind blades are frozen. Transmission lines might be frozen, preventing flow of electricity. There's a lot less coal. There's less nuclear," Moura said. "And then the gas generation — the fuel is delivered just in time, so if there's any disruption in the winter, that could implicate the gas generation" in power outages.
Ultimately, solving these challenges will mean figuring out how to transition as quickly as possible to an energy system that doesn't spew greenhouse gases into the atmosphere, while also keeping the lights on and keeping costs in line. As I wrote last week, it's going to be a delicate balancing act. Some of the steps will be easy; others will not.
For now, let's consider Texas the latest warning sign of what can go wrong if we don't strike the right balance.