New Florida Neighborhood has Zero Emissions, Embedded Tech and is Hurricane-Proof
In a fishing village south of Tampa called Cortez, a new community of small homes will run on solar power to reach a "net zero" energy footprint – using Google Home to help optimize how the power is used.
Read the entire article at Fast Company.
"It's going to be a grid-interactive, grid-optimized virtual power plant," says Blake Richetta, senior vice president and head of U.S. operations at Sonnen, which is making batteries that will store solar power for the 148 new homes in the new development, called Hunters Point. The company designed its software to work with Google Home devices and interact with its system, which sends extra power into batteries or into the grid at ideal times.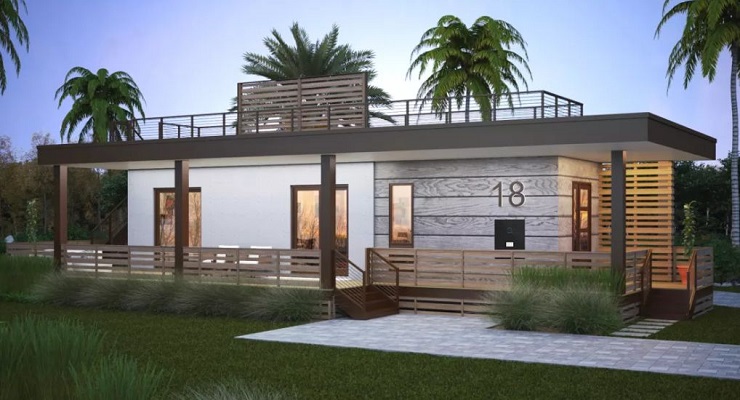 Image: Pearl Homes
During the day, for example, when homeowners are at work, Google's Nest thermostat can start "pre-cooling" houses early. That means that solar power from the roof can be used directly. Other Google devices will work with the system to run appliances when demand is low (the homes will come equipped with Wi-Fi-connected appliances from GE). Sonnen's system will charge electric cars when energy demand is low, or store extra power from the grid when energy is being overproduced and is cheapest.
As solar grows on the grid, it tends to create an oversupply in the middle of the day when the sun is shining and demand for electricity is low. The supply of solar makes demand drop even more. When the sun sets and demand peaks, power plants have to quickly ramp up production. By storing solar power and controlling energy demand, the system of battery storage and software can make better use of solar power.
The small houses, designed with help from the Florida Solar Energy Center, a research institute at the University of Central Florida, will be LEED-certified and ultra-efficient. They'll also be essentially hurricane-proof: Carbon fiber in the building materials helps the houses meet the standard for a Category 5 storm. And if a storm takes out the electric grid, the solar panels and batteries can keep the power on in the neighborhood after the storm passes.