"Vertical Village" Built of Wood to Rise in Paris
Sou Fujimoto, Nicolas Laisne and Dimitri Roussel have won a competition to design a striking new mixed-use development as a counterpoint to Paris' urban sprawl. Titled "Vertical Village," the 164-foot-tall tower will be built almost entirely of timber, and it will serve as a "new gateway" to the east suburb Rosny-sous-Bois. The nearly 400-foot-long timber-framed structure will be reinforced with a concrete base and supporting column.
Read the entire article at Inhabitat.
Developed by La Compagnie de Phalsbourg and REI Habitat, the 303,542-square-foot mixed-use Vertical Village will comprise 57,000 square feet of office space and 183,000 square feet of housing, nearly a third of which will be allocated for social housing. Unlike the conventional architecture surrounding the structure, Vertical Village is designed in Fujimoto's iconic architectural style with its undulating white form and seemingly random assortment of geometric canopies supported by thin pillars. Glazing wraps around the building as will greenery.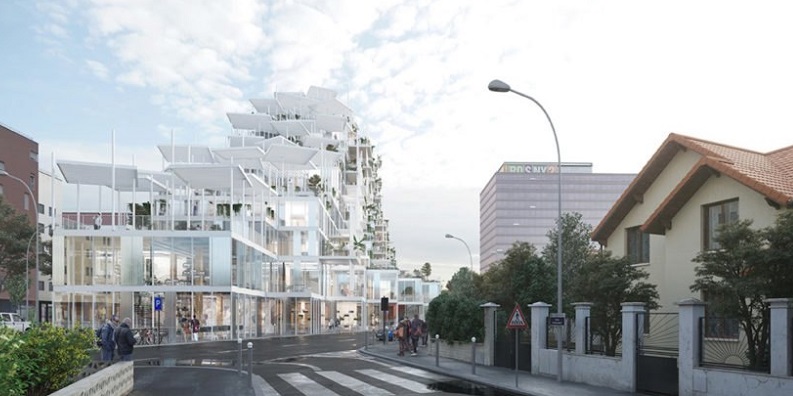 The ground floor and rooftop will house 64,583 square feet of open community space including a food court, day care center, family office, community centers, an escape game center, and a rooftop bar. A sports hub will span the full height of one section of the building and feature climbing walls, urban soccer pitches, and a gym. The Vertical Village is part of a wider government-backed scheme to revitalize Paris' suburbs as directed by Inventons la Métropole du Grand Paris.