Florida Newspapers Team Up to Highlight Threat from Sea Level Rise
The editorial boards of the Miami Herald, South Florida Sun Sentinel and Palm Beach Post — with reporting help from WLRN Public Media — are joining hands in an unprecedented collaboration this election year to raise awareness about the threat facing South Florida from sea-level rise. In drumbeat fashion, they plan to inform, engage, provoke and build momentum to address the slow-motion tidal wave coming to Florida.
Read the entire article at The Miami Herald.
You see the evidence several times a year in Miami Beach, the finger isles of Fort Lauderdale and along the Intracoastal Waterway in Delray Beach. During king tides on sunny days, seawater bubbles up through storm drains and over seawalls into lawns, streets and storefronts. That didn't happen 20 years ago, but it's going to happen more and more.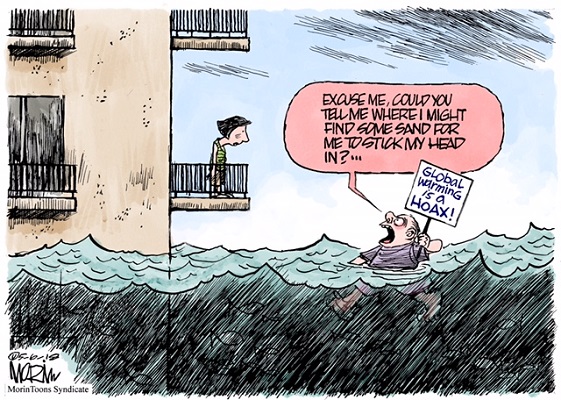 Of the 25 American cities most vulnerable to sea-level rise, 22 are in Florida, according to the nonprofit research group Climate Central. They're not all along the coast, either. Along with New York City and Miami, the inland cities of Pembroke Pines, Coral Springs and Miramar round out the top five.
Flooding also is increasing in South Florida's western communities — like Miami-Dade's Sweetwater and The Acreage in Palm Beach County — because seawater is pushing inward through our porous limestone foundation and upward into our aged flood control systems, diminishing capacity. Sawgrass Mills, a huge shopping complex in western Broward, closed for three days last year because the region's stormwater system couldn't handle a heavy afternoon thunderstorm. You've never seen that before.
The encroaching sea is bringing sea critters, too. Catfish were spotted swimming through floodwater at a Pompano Beach apartment complex west of I-95 last year. And don't forget the octopus that bubbled up through a stormwater drain in a Miami Beach parking garage.
More than the rest of the country, South Floridians get it. The Yale Climate Opinion Maps show 75 percent of us believe global warming is happening, even if we don't all agree on the cause. We understand that when water gets hotter, it expands. And warmer waters are melting the ice sheets in Greenland and Antarctica. If all of Greenland's ice were to melt — and make no mistake, it's melting at an increasing clip — scientists say ocean waters could rise 20 feet.
One of the reasons sea-level rise feels like a distant threat is because construction cranes still dot our skylines, the population keeps growing and politicians keep approving new developments.