The Risk of Sea Level Rise is Chipping Away at Miami Home Values
Creeping flood waters driven by sea rise have yet to reach the doors of most homes in Miami-Dade, but research shows the looming threat from climate change is already affecting their value. And not in a good way.
Read the entire article at The Miami Herald.
New data from Harvard University and the University of Colorado suggests that homes in lower elevations are selling for less and gaining value slower than similar ones at higher elevations. Researchers see that as sign that some buyers are factoring climate risks into their offers and investments — a trend that could have major implications for a state with more coastal real estate at risk than any other.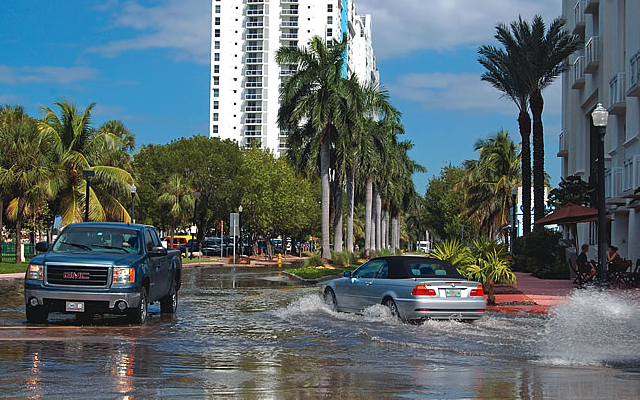 Jesse Keenan, a professor with Harvard's Graduate School of Design, said his recently published paper is the first dollars-and-cents indicator that climate change is already having an impact on the real estate market.
His team reviewed sales of more than 100,000 homes in Miami-Dade County from 1971 to 2017 and found that the lower elevation houses gained value slower than higher elevation homes. That gap grew even wider after 2000, which Keenan said is when sunny day flooding became more frequent in South Florida.
"It really stood out that low elevation properties essentially serve now as inferior investments," he said. "I think it's pretty clear. It may or may not be climate change, but it's hard to argue it's not climate change."
A broader study from the University of Colorado at Boulder found that the effect isn't contained to South Florida. Assistant professor Ryan Lewis and his team reviewed nearly 500,000 houses and condominium sales across the nation from 2007 to 2016 and found that homes vulnerable to sea level rise sell for an average price 7 percent lower than similar homes safe from rising seas.
Lewis said his data show that the loss of value, which he called a discount, will probably worsen in the future as more home buyers learn about their vulnerability to sea level rise. The more home buyers know about their risk, the more likely they are to negotiate a better discount for their property. The research shows investors — who buy multiple houses — pay less for homes than buyers who live in the home.
That could, he said, lead to a "wealth shock" for the buyers who pay too much. A home is the largest financial investment for a majority of Americans, who usually rely on the home to grow in value over the years so it can be sold for retirement funds at the end of mortgage in 30 years.
"Suddenly this asset is worthless precisely when they need it the most," Lewis said.