Emerging Risks: what are the main risks for 2025?
AXA is one of the largest global insurers with over 100 million customers and 165,000 employees in 64 countries. Preparing for tomorrow's risks means reflecting and taking actions on them today. That is why AXA surveys employees worldwide every year to identify the most important emerging risks for the next five to 10 years.
Read the entire article at AXA.
Insurance is about preventing adverse outcomes and protecting customers against risks. In order to carry out this mission to the best of their abilities, insurers need to understand and prepare for the risks we will face in the years ahead. Hélène Chauveau, head of the Emerging Risks department at AXA, defines these risks as "newly developing or changing risks that are generally characterized by major uncertainty". This uncertainty is "partly derived from the lack of historical data that characterizes them, but also from scientific-technological, socio-political or regulatory changes that can create discontinuities in their evolution."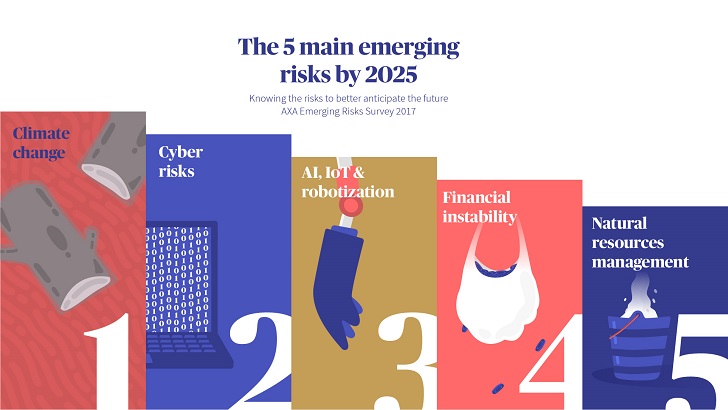 Since 2014, Hélène and her team have set up and managed the Emerging Risk Survey. By polling employees across the globe, as well as a network of scientists, the survey targets experts with diverse backgrounds, cultures and skills in order to compile a comprehensive picture of emerging risks. This year's results have shown a predominance of environmental risks (climate change, natural resources) and technology changes (e.g. the Internet of Things (IoT), Artificial Intelligence (AI) and cyber risk), in addition to financial uncertainty…
For the third year in a row, the environmental risk has claimed the top spot in the ranking of emerging risks. That result comes as no surprise to Joaquim Pinto, Holder of the AXA Chair on Regional Climate and Weather Hazards at Karlsruhe Institute of Technology. He even sees it in a positive light, signaling a welcome change in public awareness: "The five warmest years have occurred since 2010. Given that the climate change trend is unbroken, we can expect the probability of occurrence of intense heat waves to increase within the next ten years. The same is true for storm surges and high-water levels on the coasts."
Coastal areas face the biggest risks, particularly as urbanization keeps increasing drastically in these regions: "Strong population concentration in coastal areas, such as southeast Asia, West Africa or the US Southeast, as well as the increase in insured values, is very problematic, as these areas are often affected by heavy rainfall (monsoon), typhoons and/or storm surges", explains Joaquim Pinto.
In his view, it is essential for city authorities to grapple with this problem. Private sector companies can also do their part to limit the impact of these risks. According to the researcher, regulating construction in flood zones is one of the best examples of how companies and public authorities can work together for change: "While this is obviously not a good idea in terms of physical science, [construction in flood zones] regularly happens due to the necessity to increase housing near large cities. An increased awareness of the regional and local authorities of these issues could thus be very helpful to limit the impact of climate change-related risks."