EasyJet Developing a Fleet of Electric Planes
Read the entire article at dezeen. 
UK budget airline EasyJet has paired with US firm Wright Electric to develop a battery-powered aircraft fleet that can be used for its short haul flights. As part of a wider strategy to progressively decarbonise and reduce noise from aviation operations, EasyJet hopes to build the all-electric commercial passenger jet within the next decade.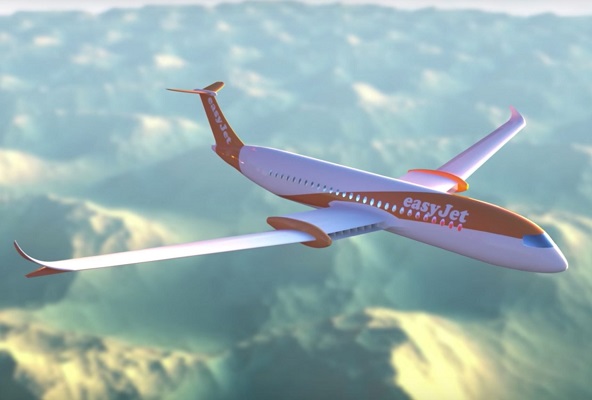 EasyJet and Wright Electric envision that the electric planes will be powered by swappable battery packs. A distributed electric propulsion system, which sees electric power shared across motors integrated into the wing, will enable a more energy efficient flight.
The electric aircraft could be used for flights under two hours or 335 miles, which would cover up to 20 per cent of EasyJet's routes flown, including UK and European short-hauls such as London to Paris and Amsterdam, and Edinburgh to Bristol.
With commercial electric flights promised within the next decade, the airline says that every short haul flight could be electric within 20 years. The move makes EasyJet the first major airline to commit to developing all-electric aircraft.
EasyJet has a carbon emissions target of 72 grams by 2022, which would be a 10 per cent reduction from today's performance and a 38 per cent improvement from 2000. In addition to its commitment to developing electric aircraft, the airline introduced the Airbus A320 Neo aircraft to its fleet earlier this year. The A380 planes offer up to 15 per cent saving in fuel burn and CO2 emissions, and a reduced noise footprint of 50 per cent on take-off and landing.
The airline will also introduce new electric, towbarless aircraft tugs, and has announced that a plan to trial hydrogen fuel cell technology will be implemented in the coming months. These developments will enable the airline to operate a zero emissions taxiing system for its aircraft.
EasyJet reports that since 2000, its emissions have already reduced by over 31 per cent per passenger kilometre.