The World's First Mobile, Solar-Powered Recycling Plant in the Middle of London
Read the entire article at inhabitat. 
The mobile recycling factory of the future just landed in the 19th century courtyard of the historic Somerset House in Central London. Trashpresso is a giant solar-powered recycling plant that transforms discarded plastic bottles into architectural tiles. The machine is the brainchild of Pentatonic, a furniture and design company based in Berlin and London committed to using only post-consumer waste in their products – from chairs made from "felted" plastic to glassware made from smartphone screens.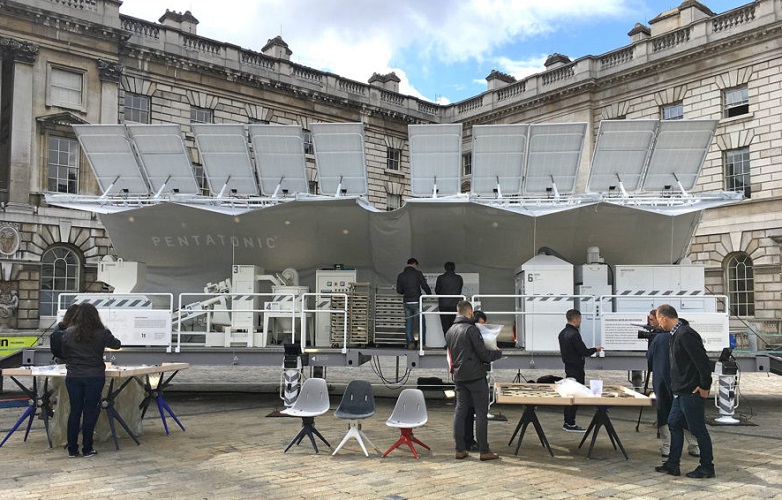 Trashpresso is the world's first off-grid, industrial grade recycling solution designed to be mobile and functional in isolated locations where traditional recycling plants aren't a feasible option. "Our non-negotiable commitment to the consumer is that we make our products using single materials. That means no toxic additives and no hybridized materials which are prohibitive of recyclability," explains co-founder Johann Bodecker.
Trashpresso made its global debut this week at the Design Frontiers exhibition during the London Design Festival. Visitors to Design Frontiers were invited to contribute their trash and watch the Trashpresso process from start to finish – from the sorting of plastic bottles to the compression of shredded PET into solid hexagonal tiles.
Enormous black spheres made of recycled plastic were also installed in the courtyard, lending an imposing presence to the Edmond J. Safra Fountain Court. Throughout the week, the black spheres were gradually covered in the architectural tiles created by Trashpresso, with the public taking part in the installation. Large spheres made of metal mesh contained more plastic bottles, calling attention to the ongoing problem of tons of plastic a year entering our oceans.
The Trashpresso machine debuting at Design Frontiers boasts upgraded engineering designed for global transportation. An earlier version of Trashpresso was previewed in Shanghai for World Earth Day by Pentatonic collaborator and investor Miniwiz, which is based in Taiwan and specializes in upcycling.