Giant Tunisian Desert Solar Project Aims to Power Europe
Read the entire article at Climate Home.
There has been talk of tapping into the Sahara desert's vast resources of sunshine to power Europe for years, but little to show for it. Now a massive project in Tunisia is hoping to be the first to make the solar power export dream a reality. Developer TuNur this week filed a permit request to the energy ministry to build 4.5GW of capacity near Rjim Maatoug, in the southwest of the country. The electricity generated is destined for Europe, with cables under the sea to Malta, Italy and France.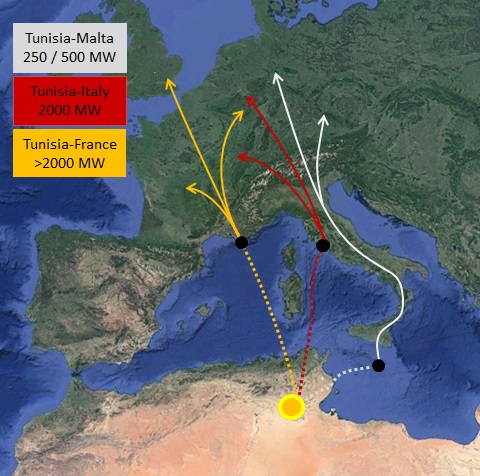 If all goes smoothly, TuNur chief executive Kevin Sara told Climate Home a first 250MW phase, with a connection to Malta, could be running by 2020, for an estimated €1.6 billion investment. The business case rests on Tunisia's bountiful sunshine – up to 20% more than the best sites in Europe, according to TuNur – and vast area of uncultivated land. EU climate and clean energy goals create demand. 
TuNur plans to use concentrated solar power technology, which works by reflecting the sun's rays onto a central tower from an array of mirrors. Using molten salt to store the energy, it can flex generation to meet variable demand. The initial 250MW plant would already be one of the largest thermal solar facilities on earth. 
If fully realised, the development would cover 25,000 hectares, nearly three times the area of Manhattan. "There is so much land, which is completely marginal land – it is not good enough for agriculture," said Sara. "It is just sitting there and the local people are delighted that we are coming to do something with it."
In 2014, Tunisia became the third country in the world to ink climate protection into its constitution. That was followed by a renewable energy law in 2015. Sara said people in the region were supportive of the project. Indeed, he argued building a solar industry would help redress the inequality between Tunisia's wealthy coastal cities and underdeveloped interior. "What we want to do is really create a [solar export] sector and other people to follow us."