Mainland Miami Ponders Returning Neighborhoods to Nature to Survive Rising Seas
Read the entire article at The Miami Herald.
On mainland Miami, miles away from the pumps that keep Biscayne Bay from slowly swallowing South Beach, the neighborhood around Ray Chasser's riverfront house seems like it's drowning one high tide at a time.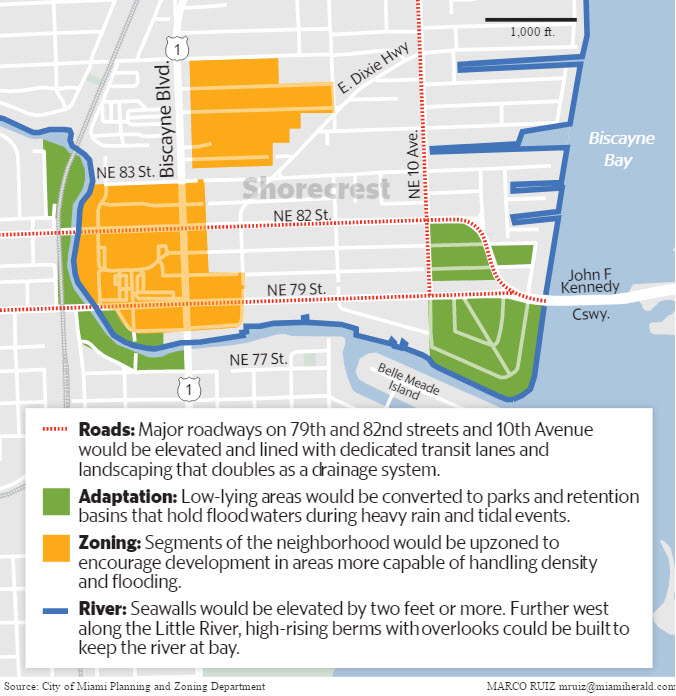 When the moon is full and the bay bloated, a salty soup comes seeping forth from French drains and onto the streets, turning the low-lying peninsula where the southeast corner of Shorecrest meets the mouth of the Little River into a temporary tide pool. During the annual King Tide, when the water level is at its peak, the coastal community floods for days, something Chasser says didn't happen when he first acquired his property 30 years ago. "As soon as the tide starts coming up, you can see it coming from the drains. And then the streets are covered," he said. "And it's going to get worse."
Local predictions of up to five feet of sea rise by the next century suggest that the increasing problems created by tidal events are a harbinger of things to come. East of a natural ridge, much of the neighborhood is barely three feet above sea level, making it among the most vulnerable pockets of South Florida real estate not located on a barrier island — and a prime candidate for an existential climate makeover.
In order to save Shorecrest, where million-dollar homeowners mingle with middle-class families and blue-collar renters, government officials across the region are now asking whether it ought to be redesigned rather than simply reinforced. Where climate change poster child Miami Beach is investing $500 million in pumps, streets and sea walls in order to fight for every inch of dry land, municipalities on the mainland are exploring what some communities would look like if they were made to accommodate rising seas rather than simply fight them.
One idea likely to be both controversial and expensive: demolishing properties and returning developed areas back to nature. 
Shorecrest now appears as if it may be the first Miami neighborhood to receive an in-depth engineering overhaul to brace for the future. In the short run, Miami is conducting its own geo-mapping in preparation for the next King Tide in order to alert residents to where the flooding will be and when.
The city is also pursuing a solicitation for engineering firms to update Miami's stormwater master plan after a 2012 plan failed to include sea-rise projections. And a push is getting back under way for a bond referendum that Mayor Tomás Regalado has vowed will include millions in seed money for basic sea-rise projects like pumps, drainage and sea walls.