WHY??? Small Word, Huge Impact
This post was written by Hallie Booth, an 8th grade science teacher and the 2022 Kentucky Middle School Teacher of the Year.
I remember the first time I called a corporation to see if they were interested in helping some of my students with a project they were working on. I instruct my students to always question why. You know how small children always ask "Why?" Somehow they fall out of that habit as they progress through school. Yet such a small word creates a world of inquiry, intrigue and a desire to learn more. Making that call made me nervous. I so wanted to share the excitement of my students, I could only hope the executives would listen. My call was to the Kentucky Speedway.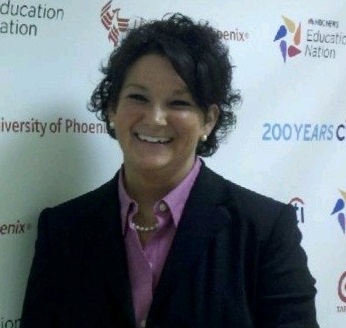 My students wanted to sit down with a design crew from NASCAR and try to understand how cars that crashed on the track and experienced strong impacts at a high rate of speed do not have fatalities, yet every day on our roads we do. They wondered why this same technology was not being used in the cars we use every day.
At the time I was teaching at an inner-city school that had no "hands on science". It was the old fashioned "sit and spit facts back" to the teacher on a test. The students struggled to remember information via a real-world connection that would help them understand. Yet once they became involved, asked their own questions directly to people in the "field" who understood the nuances of the topics… their interest and understanding grew.
One student said, "I now know why science is important in understanding the world around us, we are the future… literally, it is up to us." I remember that student because her statement made me realize I needed to work hard on getting students connected to business and community partners. I knew it was my job as an educator to have them look at the world around them and ask that question… WHY?
My students are taught to be critical consumers of the world around them. I teach them to look at all the information and come to a consensus of their belief. For years now my 8th graders have been creating their "Bally Global Projects". The curriculum in 8th grade is predominately about local and global issues concerning the environment. We question where we will be in 50 years, 100 years, etc. They gain knowledge by reading research and speaking to scientists, government leaders, corporations, and research facilities. The students use resources from community partners to provide a sounding board for their projects, development resources, and a "location" to test run their projects.
My students have grown vegetables for their neighborhoods/communities, designed a plan for handicapped accessible playgrounds, developed a garbage bot system that runs on solar power to clean beaches, and a coral reef revitalization "grow" system. To see this expansion of knowledge, ownership, and passion that my students have for their projects is WHY I teach!
WHAT IF?
This is a small school with 125 students. What if we could connect every student across the world and worked together to create a sea change? What if corporations, researchers and scientists were open to work with middle and high school students who ask WHY, and look for answers to better the world we live in? What If we all worked together to solve the issues that are causing health problems, weather changes, food shortages, etc.? What if we encouraged students to continue to ask WHY and support them in developing solutions? What if we multiplied many fold the opportunities that arise when students have access to professional researchers, scientists, and corporate executives?
I ask that you consider working with schools and students to help them understand and design solutions to problems immediate and for the future. Colleges/Universities, Corporations, Researchers, Scientists… let's share information and connect in a global project for change! Be a part of something amazing!
Hallie Booth was awarded teacher of the year this fall 2021, and the "why" is evident. Hallie is passionate about education and has spent time planning, connecting, and learning so that her students can engage in a meaningful authentic exploration of content. However, planning and partnerships take time and teachers struggle to create such opportunities in their classes.
If you are a teacher seeking to engage your students like Hallie, but are limited by time, resources, or funding, check out Authentic Exploration Matters. Authentic Exploration Matters (AEM) is a nonprofit organization with a mission to provide a trustworthy free web-based platform for teachers who seek to promote innovation, collaboration, and inspiration through highly vetted science resources and experts. Our objective is to serve teachers as they work to implement purposeful opportunities for their students. We hope to increase the number of stories, like Hallie's, that highlight an innovative approach to education across the state of Florida and beyond.
To learn more about AEM and our program, you can pre-register for this free webinar by clicking here.
Or just join us on October 19 from 3:15 – 4:15 EST on Zoom.