Our Earth Walk
This is a unique time. COVID-19, as the coronavirus is formally called, has the whole world's attention – as a health and an economic crisis. People are being asked or ordered to stay home. This is in addition to our shared experience of Climate Change. Remember that? And, this month, April, is the 50th anniversary of Earth Day.
I've been asking myself if there is a way to use this singular moment in time to make things better – personally, regionally, globally. On the morning of April 1, 2020, I woke up with an answer.
Treat this adventure, however long it works out to be, as a pilgrimage.
I took a walk with my wife Willow later that morning. We walked on our local Rails-to-Trails route past overgrown blackberry thickets and homeless camps. Only this time, I carried a staff with colored strips of cloth tied to it, representing my commitment to healing the Earth. Once she heard what I had in mind, Willow suggested we walk without talking so we could reflect, meditate or pray. The sights and sounds were familiar – the warble of birds, the wetland in spring where ducks can nest and raise their young, and yes, the power lines and the fences bounding the back sides of commercial enterprises.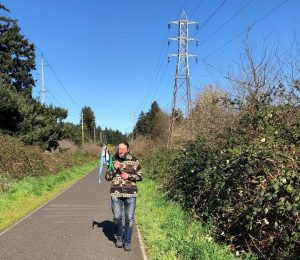 But this walk felt different. I walked taller, as if I were on a mission. The miles went by easily. My mind was at peace.
What is a pilgrimage?
Most of us have heard of pilgrimage in its relation to religion. Muslims go to Mecca once in their lifetimes, if they can. Christians and Jews go to Bethlehem and Jerusalem. We also can go on a pilgrimage when we scatter a parent's ashes. Wikipedia, drawing on three different sources, offers a secular definition which can include anyone. "A pilgrimage is a journey, often into an unknown or foreign place, where a person goes in search of new or expanded meaning about the self, others, nature, or a higher good, through the experience. It can lead to a personal transformation, after which the pilgrim returns to their daily life." [1]
It is helpful to have a reason for taking the journey, a commitment to set aside things or do things differently, and an openness to what comes. I suggest a pilgrimage is a shared experience. We meet other pilgrims. We have encounters and leave impressions along the way.
What better destination than the sacred place where we live? What better time than when the world shares a compelling common experience?
Intentions
For me, intentions and commitments set a pilgrimage apart from ordinary time. Staying sheltered in place, along with much of the world, is certainly a commitment. I will be carrying that staff when I go for walks. For my environmental commitments, I will move to paperless billing with our phone, gas and electric services; I will read Permaculture by David Holmgrem; and I will help our next-door neighbors remove invasive English ivy from their property. Stuff I have taken years to get around to.
On public radio I heard about three sheltered-in-place musicians in Barcelona, Spain. They call themselves the Stay Homas. They have committed to writing and producing a song a day about the quarantine. Their songs have found tens of thousands of followers on You Tube.[2] What a beautiful pilgrimage in place!
My wife and I decided to call this pilgrimage "Our Earth Walk." No one of us owns it. Pretty much all the people on the planet are involved in one way or another – both with COVID-19 and with the environment.
An Invitation
How about you? Join us on Our Earth Walk. Find your way to bring meaning to this disruption of our lives – for yourself, your family and friends, your community, and the Earth. Come walk with us, either figuratively or literally, at a proper social distance. Tell others what you are doing. And why. Let us be open not only to our own transformation, but the world's.
Please comment and share your Earth Walk with us.
BIO: Jon Biemer is writing a book with the working title, From Footprints to Handprints: Creating Sustainability to Heal Our Planet. His education includes both mechanical engineering and Process-oriented Psychology. He supplements his activism and writing with Organizational Development consulting, doing business as Creating Sustainability.
[1] Wikipedia, s.v. "Pilgrimage," accessed April 4, 2020, https://en.wikipedia.org/wiki/Pilgrimage.
[2] Bo Hamby, "They Were Roommates. Meet the Band Writing Songs from its Quarantined Apartment," Morning Edition, National Public Radio, April 2, 2020, https://www.npr.org/2020/04/02/822122665/they-were-roommates-meet-the-band-writing-songs-from-its-quarantined-apartment.