A Look Inside Ocean Plastics Recycling
There have been several articles published lately about our broken recycling systems and how we might fix them. I knew about the manufacturing and consumer portions of the cycle, but little about the supply chain, wholesale and retail portions. So I decided to find out.
I interviewed Bill Davis, founder of BeachNecessities.com, an online store with a beach / ocean products focus. Bill hatched the idea for Beach Necessities while on vacation in Hawaii in 2016. Needing a new pair of flip-flops, he went to an ABC Store in Waikiki where he was able to find a great pair at a reasonable price. Having been in eCommerce for 20+ years, and being a life-long lover of the ocean, Bill sensed a business opportunity. Knowing that most people have an appreciation for the beach and ocean, he thought some percentage would patronize a business working to protect them. So Bill launched BeachNecessities.com. Here's the company's mission statement:
BeachNecessities.com forges the online shopping experience for the $15B+ US beach goods market with a focus on sustainability in the products we carry and in working to protect the health of our oceans. It's our intention to ensure that the beaches and oceans where our products are used will be there for future generations to enjoy. To facilitate this, we have joined 1% for the Planet, founded by Yvon Chouinard of Patagonia fame which commits us to investing 1% of our annual revenues in environmental non-profits which for us are beach, ocean, lake, pond and river focused.
I noticed that the statement makes a point of the 1% donation being from top line revenues, rather than from profits. Bill told me, "We are absolutely trashing the ocean. We have to step up and protect it given it supplies half of the oxygen we breathe, is the largest carbon sink on the planet, and is being debilitated by plastic pollution. If we, as ocean lovers, don't do it… who will? There are accounting games that can be played to manipulate the amount of reported profits. Revenue is revenue. It's a hard number. Yvon Chouinard understood that as this has been Patagonia's business model since 1985."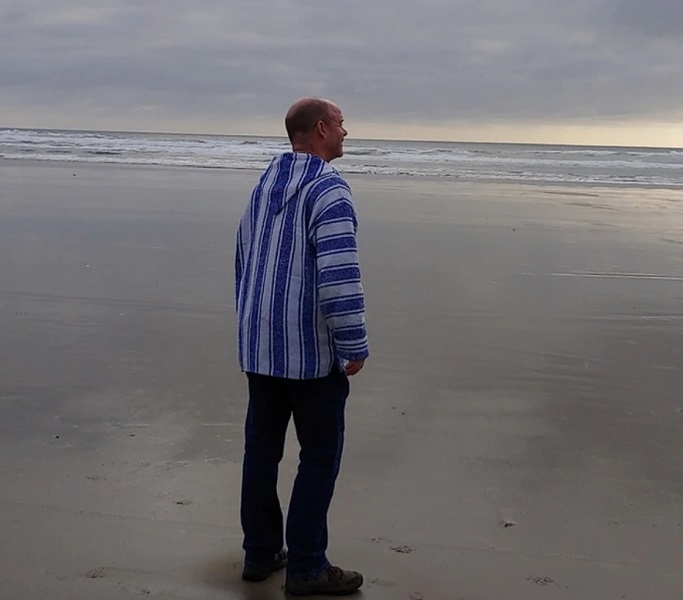 I asked Bill about his products – are they sustainable, made from recycled materials, designed to be recycled back into production at their end of life? His answer was revealing. It exposes how, even if we have the best of intentions, it is nearly impossible to build a successful business while being entirely sustainable… due to the system we all operate in.
He said, "We have been wading into these waters since we launched in June of 2017. The majority of products we order come from suppliers who don't even consider this, so we ask about the environmental footprint of their products. Unbelievably, many tell me I'm the first retailer to ask these questions. Currently we're not ordering enough to have a meaningful impact… yet. We are small compared to many online retailers. If Amazon were to issue an edict requiring manufacturers and supply chains to make their products sustainable, that would have a significant effect. But we actively look for suppliers and have found some such as Subs, a New Zealand company, which uses recycled ocean plastics to produce their flip flops, Indosole which uses recycled tires to make their flip flops and slides, Looptworks here in PDX, Recover Brands in NC and Stem the Tide in the UK that are upcycling recycled plastic (PET) bottles into their apparel. We carry items from each, but the challenge is how do these products get upcycled at the end of their life?"
Consumers need to do their homework and really research brands that claim to be sustainable. For instance, polar fleece is made from recycled plastic bottles and petroleum. It is produced by forcing liquid plastic through tiny holes. When the plastic cools, it becomes threads, which are then weaved to make fabric. Unless the energy used to heat the plastic is supplied by renewables, this process emits CO2. And when fleece is laundered, it generates microplastics that flow from the washing machine into sewers and eventually into water ways. Bill told me that this can be fixed by installing filters into washing machines, but "this isn't happening in a meaningful way yet, because people aren't aware they can buy these filters and manufacturers haven't yet made these standard on all new washing machines."
"Another thing we are doing is trying to educate the largest and longest running watersports and beach lifestyle trade show in the world, Surf Expo, about what they can do to educate the industry. The show hosts thousands of vendors who depend upon a healthy beach and ocean ecosystem for their livelihood. These companies have a lot to lose if we stay on our current path… it's absolutely necessary to engage them in these efforts to be successful. Surf Expo is hosting shows in September of 2020 and January of 2021 in Orlando. After attending this past January's show, I reached out via LinkedIn to two executives of Surf Expo to initiate a discussion. I finally heard back from one in late February asking for more detail, which I have shared, but have yet to get any feedback."
Bill continued, "Without the private sector's direct involvement, we won't be able to have a meaningful impact on improving the health of beaches and the ocean. There have been some recent developments, like the Business Roundtable announcement in August of 2019 to replace the current corporate focus on shareholder value to one that includes all stakeholders – consumers, employees, communities, suppliers, etc. So far, bold talk but little action. The private sector has the opportunity to more effectively manage itself, but if that isn't forthcoming then it shouldn't be surprised when the regulatory environment tightens to achieve the desired results. Managing one's own affairs is far preferable than being directed what to do, and companies have to minimize their impact on the beach and ocean ecosystem for the benefit of the human species, as well the species that live in the oceans."
"We are trying to set an example for how to do the right thing, but our biggest challenge is supply chain. As a small business owner, I don't have the clout to change the manufacturer/distributor/wholesaler business model. But I think we are proving that you can work to do the right thing, as much as possible, influence others and still build a viable business."
NOTE: There have been some recent strides on the regulation front. Senator Tom Uddall of New Mexico and others have introduced the Break Free from Plastic Pollution Act of 2020, legislation that would phase out unnecessary single-use plastic products, hold corporations accountable for wasteful products, reduce wasteful packaging, and reform our broken waste and recycling collection system. It requires corporations to take responsibility for their pollution, by mandating that producers of plastic products design, manage, and finance waste and recycling programs. See my post about our broken recycling system here: Recycling is a Sham.
And the EU recently introduced legislation aimed at killing our "throwaway culture". It requires manufacturers of cell phones, apparel, electronics and more to build products that last, and to be responsible for the products at their end of life… feeding them back into the production cycle.
If you value beaches and the ocean ecosystem, please make that known to your legislators. Find out which politicians are working to solve the problem and give them your support. And become better consumers. Do your homework and research the brands you purchase from. Do not assume that PR statements concerning their sustainability are telling the whole truth.
If you want to learn more, the UN Ocean Conference will be held in June of this year in Lisbon, and the UN Decade of Ocean Science for Sustainable Development kicks off on January 1st of 2021.