Mission 2030 Summer Eco-Challenge
by Kirstin Cowan, National Geographic Educator
Summer is nearly upon us! Youth will spend days sleeping in, reading books, relaxing with friends, and simply enjoying some freedom. Families will take vacations. Some near, some far.
Time. We seem to have a little bit more of it in the summer. Time to simply exist and do our "thing". It is during this time, that the crew of This Spaceship Earth and Authentic Exploration Matters challenge you to find ways to help create a more sustainable planet. Learning about our climate crisis, environmental topics, and sustainability can be fun whether it is you alone, a family, or a group of friends. It not only helps promote a healthier planet, but also a healthier you.
Two quotes I always keep with me: "Life's most persistent and urgent question is, 'What are you doing for others?'" – Martin Luther King Jr. and "The best way to find yourself is to lose yourself in the service of others." – Mahatma Ghandi
As crew members learn how the natural and human worlds interact with one another, they become more aware of the benefits to all life on Spaceship Earth. Learning some of the infinite number of ways you can become more sustainable will not only lift you up, but will often prompt others to do the same.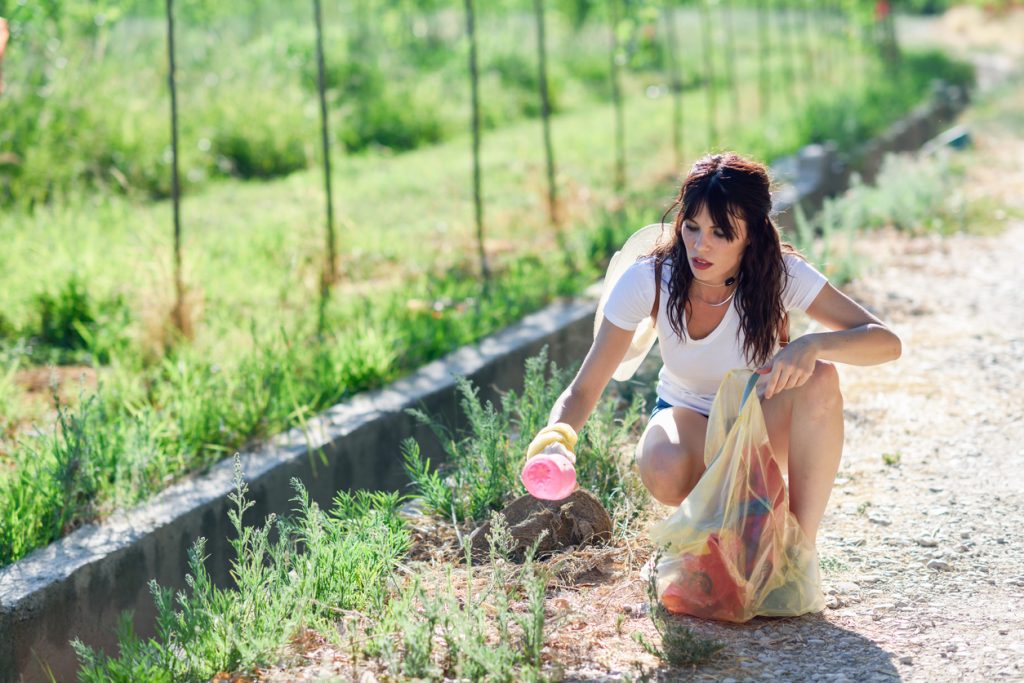 Many people who volunteer their time will find themselves experiencing moments of volunesia. Volunesia? What is that? Volunesia is a noun and it describes that moment when you forget that you are volunteering to help improve lives, because the act is improving yours. So, while no one person can do everything that is needed to recreate a healthier planet, we can each do something that will ripple and grow into a wave of action.
This brings us to the Mission 2030 Summer Eco-Challenge. Over the next few months, we would love to see how you are learning about the environment, engaging with the natural world, and helping to create a more sustainable home for all species. We would love to learn about your adventures. Please include photos. You can email your eco-challenge moments to: mission2030summit@gmail.com.
Below you will find a few ways to get you started on your eco-challenge expedition. Explore, engage, volunteer, learn, and most importantly – have fun!
Going for a walk? Visiting a park? Spending a day at the beach? A simple and helpful activity is to pick up trash and put it in a proper receptacle.
Remember the 5 R's: Reduce what you use, buy, and throw away. Reuse items such as bamboo flatware and eco-friendly beverage containers. Repurpose items that you can creatively use in a new way. Recycle the proper way and tap into organizations like Terracycle for items that general recycling plants may not accept. Refuse single use items such as straws, plasticware and plastic grocery bags.
Complete a household carbon footprint calculation at the beginning of the summer. Then, make some simple changes and recalculate your footprint at the end of the summer. You can also compare electric bills! There are many carbon footprint calculators to choose from. Check out these:
https://www3.epa.gov/carbon-footprint-calculator/
https://www.nature.org/en-us/get-involved/how-to-help/carbon-footprint-calculator/
https://www.carbonfootprint.com/calculator.aspx
You can also try this National Geographic activity: https://www.nationalgeographic.org/activity/our-footprints/
Download these apps:
The Marine Debris Tracker – this app allows you to map where you are finding trash (not just around water) and even take photos. The data collected is then added to a database that tracks trash on a global scale.
iNaturalist – this app has users record their nature observations, share with other naturalists, and even discuss your findings. You contribute to the scientific community as you locate and notate biodiversity. This data is then shared with organizations that help scientists use it.
Seek – this app is a part of iNaturalist. It has a camera feature that allows you to identify most plant and animal life forms.
EcoCRED – this app helps you "show up for the planet" as you discover your ecological footprint and build sustainable habits that help the environment.
GreenChoice – this app helps guide you to discover healthier and more sustainable shopping options.
VOLUNTEER!! I was unaware of all the nature/environmental volunteer opportunities that existed until I started looking. I was astounded at all of the options that exist. Some of the ways our family volunteers is by serving as ambassadors at The Disney Wilderness Preserve, doing citizen science on the Indian River Lagoon as we collect data for a local organization, and participating in organized beach clean ups.
How can you find opportunities near you? Here are a few ideas to get you going: Contact local state parks, the Nature Conservancy, national parks, and other nature based organizations to see what they need help with. There is always a need! Reach out to local organizations that are focused on environmental issues.
Become Citizen Scientists! Every state, province and prefecture in countries around the world has organizations that work to preserve the unique environment in their area. Reach out and see how you can help! These sites may help you find citizen science opportunities near you!
https://www.nationalgeographic.org/idea/citizen-science-projects/
https://www.adventurescientists.org
https://www.teamorca.org/citizen-science.html
https://www.nature.org/en-us/about-us/where-we-work/
https://www.citizenscience.gov/
https://scistarter.org/citizen-science
https://science.nasa.gov/citizenscience
Get planting! Plant your own garden or plant a tree or a hundred trees!
Install houses and feeders for wildlife and monitor your new friends that visit.
Save the gas and take a virtual environmental field trip! Check these out:
https://naaee.org/eepro/resources/virtual-tours-and-field-trips
https://serc.si.edu/education/virtual-field-trips-talks
https://www.discoveryeducation.com/community/virtual-field-trips/
The options are plentiful and engaging in these opportunities will create friends and memories you will treasure for years to come. Take on the Mission 2030 Summer Eco-Challenge and do your part to regenerate a healthier planet while having fun! We can all help the Earth in our own unique ways, and remember that Spaceship Earth is something we all have in common. It is our only home. It is our future.