The City of Sarasota Plans for Climate Adaptation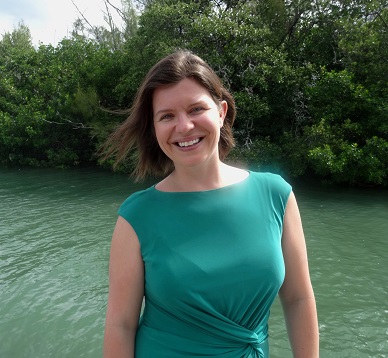 Stevie Freeman-Montes is the Sustainability Manager for the City of Sarasota, Florida. She leads programs to improve efficiency and conserve natural resources within city operations and researches social, environmental, and financial costs associated with large public investments. Stevie collaborates with city planners on resiliency and sustainability development issues and makes recommendations to the City Commission on policy and legislative priorities. Her current responsibilities include leading the city's first-ever climate change vulnerability assessment and adaptation plan, conducting community-wide and internal greenhouse gas inventories, and working to integrate climate data into long range planning, codes and administrative decisions. 
I often get comments, after presenting the City's climate-related work to the public, along the lines of "I had no idea the City was working on climate change issues!" So I take every opportunity to share the degree of detail to which the city considers climate projections in planning city infrastructure.
We know the City has a responsibility to provide critical public services (like water supply, road maintenance, emergency services, waste water treatment, etc.), and thus we also have a responsibility to consider science-based projections related to climate change to understand how we can provide these services into the future.
In November 2016, our City Commission unanimously adopted a set of climate projections for use in the climate adaptation planning process. Since then staff, working with consultants, have been reviewing roads, storm water, and waste water infrastructure, parks and natural systems, and buildings needed during emergencies, to better understand how future sea level rise, flooding, storm surge, and extreme heat may impact them.
Recently, a group of over 20 employees conducted a vulnerability analysis. This technical exercise asked those who work with these assets every day, "What impacts are already being experienced on high tide days? On extremely rainy days? On extremely hot days?" Staff filled out a worksheet and ranked the sensitivity to climate impacts of over 130 city assets. We then referred to maps that show infrastructure under sea level rise, storm surge, and flooding projections. Participants identified what infrastructure would be impacted by 2050. We're now gathering all the responses and plan to receive public input soon to further help us prioritize and better understand where we are most vulnerable to climate change.
Once the City's vulnerabilities are prioritized, we'll ask for help from the community in identifying adaptation strategies. All this information will be included in a Climate Adaptation Plan and will help integrate findings and recommendations into infrastructure upgrades, long-range planning documents, and zoning codes. Although there is more to be done, including an examination of potential impacts to our vulnerable populations, private sector, neighborhoods, etc., this first step has helped city staff become more comfortable with climate science.
We are thankful to This Spaceship Earth for recognizing this work along with our other sustainability efforts, having designated us a "Crew Friendly City". We look forward to future collaborations.
This Spaceship Earth awarded Sarasota the designation of "Crew Friendly City" for the efforts listed above, and for these initiatives:
Investing millions of dollars on ensuring wastewater effluent does not enter the Bay.
Analyzing critical city infrastructure vulnerable to climate change impacts.
Conducting greenhouse gas inventories for both city operations and the community.
Piloting innovative "Living Seawalls".
Installing additional, publicly-accessible electric vehicle charging stations.
Exploring solar installations and energy efficiencies for city facilities.