Allies On Our Earth Walk
What if set you out to change the world – and mostly it is you who changes?
From April 1st to June 30th this year (three months) my wife, Willow, and I pilgrimaged in place on what we called Our Earth Walk. My intention, as I wrote in my April 5th blog, was "to use this singular moment in time [COVID 19] to make things better – personally, regionally, globally." We walked about 250 miles, from a half to five miles daily. Here's what came of the effort.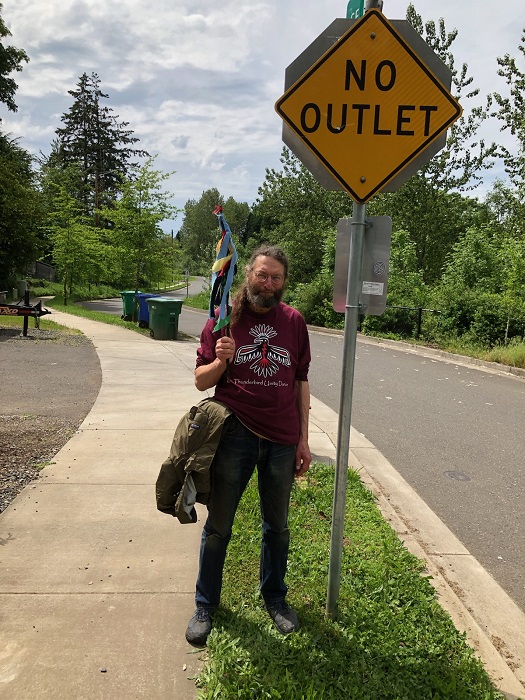 Meeting Nature
Our favorite loop wound down across the bridge to a street on the other side of the creek from our home. We would follow that street for most of a mile down to the floodplain, with a paved path leading to another bridge. That's where we joined the Rails to Trails corridor which passed through another wetland. Finally, we would hike up the quarter-mile hill that led back to an intersection near our house – 2.8 miles in all.
I identified three kinds of maple – vine, big leaf and Japanese. And three willows – red, weeping and curly. Alder occupied what once were open fields. Fifty or a hundred years ago, someone planted a few sequoias and a redwood – trees that had disappeared from the Northwest more than a million years ago.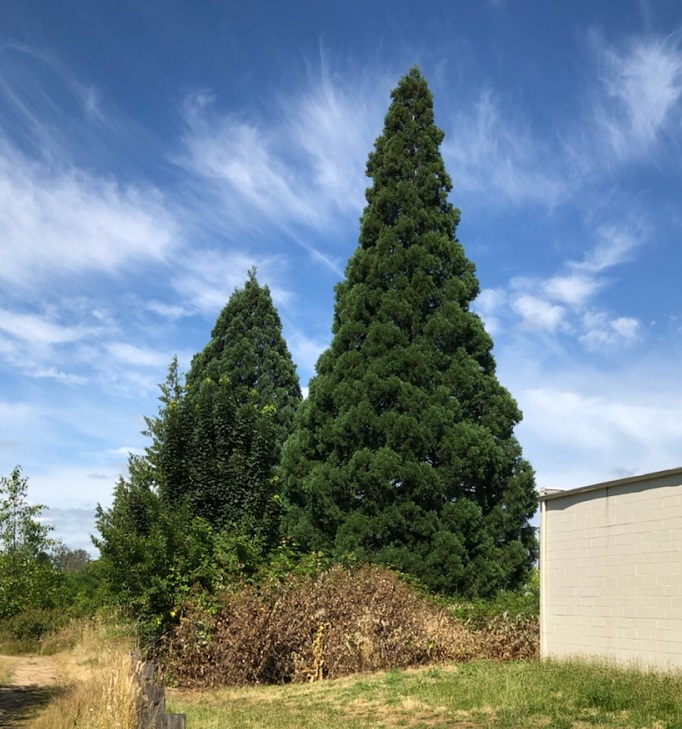 We watched bare bramble grow leaves, then pale-purple five-petalled flowers, then the rose hips. One day, I saw a new bright-blue flower on a wire like stem. "What's that?" "Chicory", Willow informs me. Why just here? A week later flourishes of blue appear at many points along our way.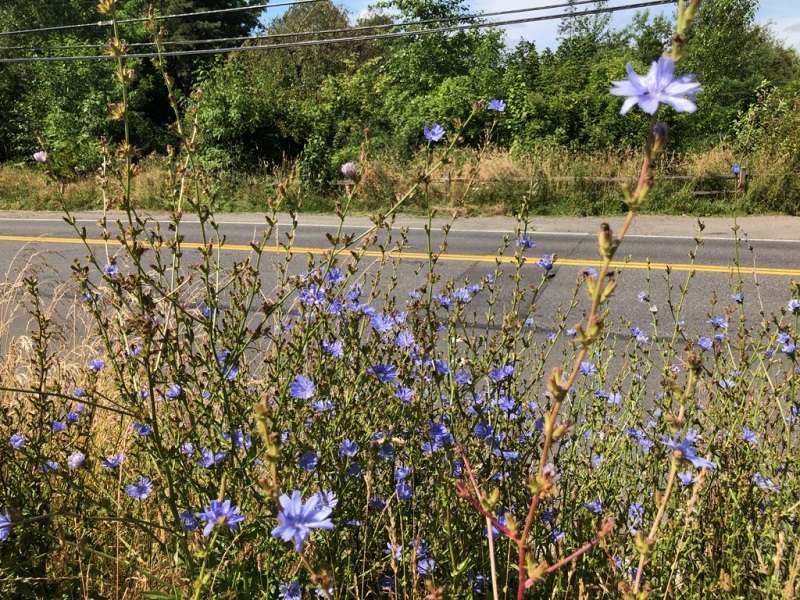 Willow also called my attention to the broadleaf and narrowleaf plantain. Both grow in disturbed areas, along the trails, sometimes side by side. She tells me broadleaf plantain is called "white man's footprint." It can be used as a poultice to stop the pain of bee stings. Narrow leaf plantain earned the name "nature's band aid." Applying the leaf to minor wounds helps to stem the bleeding.
We saw a young buck deer, a couple of rabbits, and red-winged black birds. On warm days small garter snakes slithered off the path almost before you could see them. We saw two adult Canada Geese in the stream protectively paddling before and after a single gosling. Where are its siblings we sadly asked? We looked for, but could not see, returning salmon.
Meeting Community
I can count on one hand the people who actually inquired about our periodic passage through their neighborhoods. No one said, "I want to do that." Still, the Walk and these times have brought us closer together as a community.
Immediate neighbors on both sides of us have shopped for food for Willow and me. Willow responded with quart jars filled with homemade soup. And I put in 24 hours pulling invasive English ivy as an in-kind contribution to our neighbor's landscape restoration project.
A teacher across the creek gave us tomato plants that would have been grown as community-college projects if school hadn't gone virtual. We were referred to that bounty by a friend on our street.
We found the Rails to Trails corridor problematic. More people are traveling by foot and bike; some don't observe social distance guidelines. At least on the street we can swing wide into the bike lane when someone comes our way.
Homeless camps abound in this semi-rural part of the city – especially during these times. Camps with tents and gathering areas have the air of permanency. Eight older RVs are parked long-term alongside one of our major roads. The city has provided a port-a-potty and trash receptacle nearby. We have respectfully kept our distance… out of concern for our health and respect for their privacy in equal measures. Reminder: everyone needs a place to be. The city has suspended "sweeps" of homeless camps for the duration.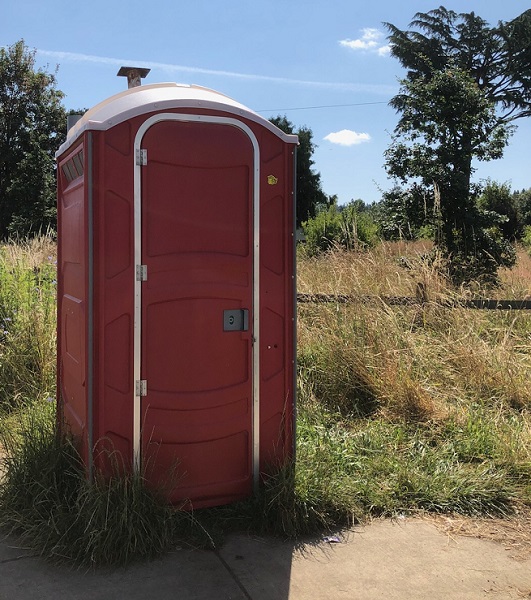 Signs of the times: "Free flowers" with bouquets of roses fresh for the taking. Signs with "In Our America" where the field of blue stars would be on our flag, and "Black Lives Matter" and "People & Planet Are Valued Over Profit" as stripes. "Grow Together," painted in large script on a fence. "Official Ballot Box," by the library where we voted in the primary election.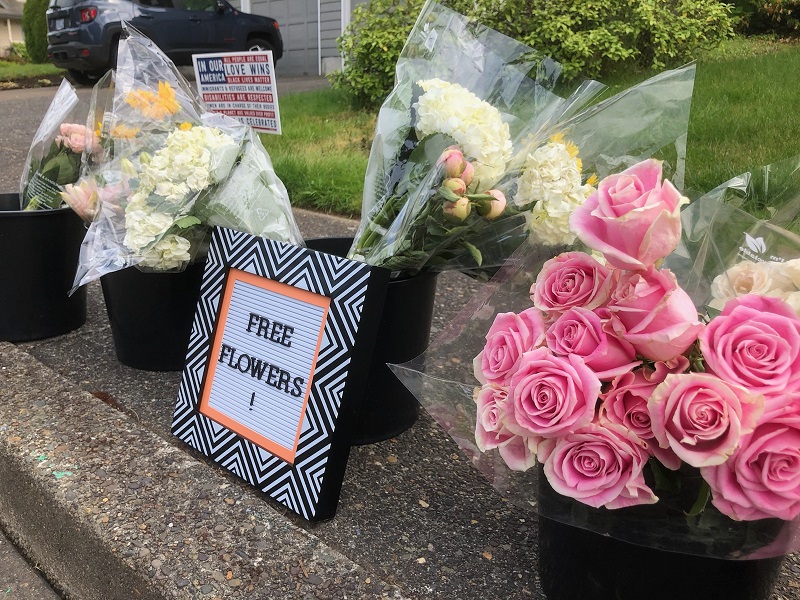 Activism
I met my modest environmental objectives for Our Earth Walk. I switched over to paperless bill paying. I read Permaculture by David Holmgren. I pulled ivy next door.
More significantly, I befriended some underappreciated allies in this epic journey to heal our planet. Generous neighbors. Civic bureaucracies. Planters in time past. Planners of recovery projects. A biology teacher. A keeper of traditional wisdom. Muralists. And Nature herself.