Resurrecting American Passenger Trains
When Patrick Goddard managed boutique hotels in Miami, Mexico, and the Virgin Islands, no detail was too miniscule for him to fuss over. "Like I don't want to crawl under the bed to find an outlet to plug in my phone," he says.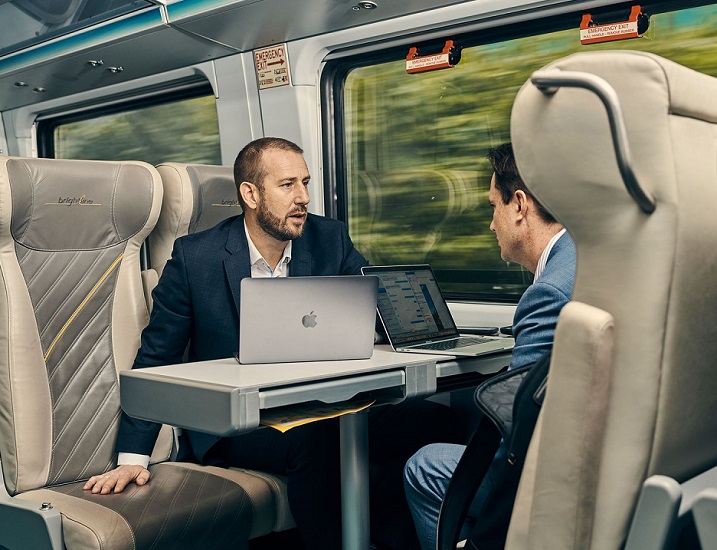 He's still obsessing over the fine points of comfort; now it's on rails. Goddard, 43, is president of Brightline, an intercity passenger rail startup backed by Fortress Investment Group LLC, a private equity firm in New York. It's the first new private company to move paying customers between American cities by rail in almost a century. It's also far from profitable, behind on ridership projections, and recovering from a canceled initial public offering.
Passenger rail hasn't been easy for a long time in America. The private kind all but vanished in the 1970s when the nation's corporate railroads talked the U.S. Congress into creating Amtrak. That enabled rail owners to ditch their sickly nonfreight routes at a time when riders were choosing cars and planes over trains. Amtrak, which isn't known for pampering anyone, has for almost 50 years been the only option for Americans journeying far from home by rail.
That is until 2018, when Brightline began running trains between Miami and West Palm Beach, Fla. The seats are wide and made of leather. Blue-jacketed attendants greet passengers. Drinks are free in first class. The company plans to extend the line to Orlando by 2022 and possibly on to Tampa.
It's also developing a route from a station on the border of Apple Valley and Victorville, Calif., in San Bernardino County to Las Vegas. "My first reaction when I went out there was, like, Where the hell is Victorville?" Goddard says. He has close-cropped brown hair, broad shoulders, and a penchant for leaning toward his listener. This is one of those moments.
It turns out, Goddard says, no matter where you start from most parts of California, you have to pass through Victorville to reach the gambling capital. So Brightline plans to create an enormous park and ride there for Vegas-bound travelers who would prefer a 90-minute train trip over stewing in traffic for several hours on Interstate 15. Brightline's Vegas-bound route will zoom down the highway's median strip. "You'll be in your car doing 50 miles an hour, and we're going to blow past you at 150 to 180 miles an hour," Goddard says.
Goddard has his eye on the U.S.'s most popular too-long-to-drive, too-short-to-fly corridor: Amtrak's route via the Acela between Boston and Washington, D.C. He's convinced he could double the profits. In fact, he'd like to discuss that with Amtrak's Anderson. "We love that business," he says. "We'd like to own it."
Read the entire article at Bloomberg Green.