Avalanches Menace Colorado as Climate Change Raises the Risk
Hundreds of avalanches have roared down mountainsides and some swept over highways in recent weeks. Mountain regions in the U.S. and Europe are preparing for more.
Read the entire article at Inside Climate News.
Against the backdrop of an 800-foot high mountain wall scarred by avalanches, Arapahoe Basin mountain operations director Tim Finnigan says he can't remember a cycle of winter storms and avalanches in Colorado as extreme as this.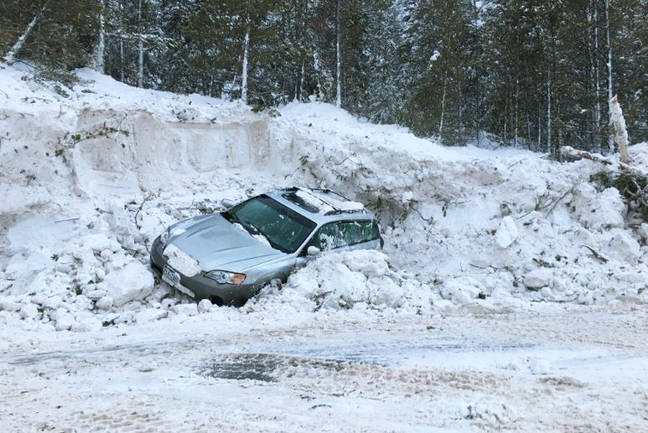 In the past week, masses of snow sliding off mountains shut down ski resorts, damaged gas lines and buried cars on busy highways. Along Interstate 70 — a key east-west corridor through the Rocky Mountains — massive clouds of pulverized snow moving at speeds of up to 200 mph pushed pickup trucks into the median and left the road covered with piles of compressed frozen snow as hard as concrete.
Normally, avalanche experts with the Colorado Department of Transportation reduce the risk by releasing controlled avalanches while roads are closed, but the extreme conditions in early March took even seasoned Colorado veterans by surprise, with large avalanches unexpectedly hitting roads while they were open. On March 8, the Colorado Avalanche Information Center said 346 avalanches had been reported in the previous seven days. Two people died in the avalanches.
"CDOT will have to rethink their avalanche work along I-70 after this," Finnigan said as he slurped soup at the Arapahoe Basin lodge after a day of blasting mountain slopes. He has worked in the snow safety field for about 30 years, sometimes triggering controlled avalanches with hand-thrown charges or by cutting into brittle slopes with his skis.
Snow scientists say extreme avalanches are among the accelerating impacts of climate change in mountain regions. Global warming can affect avalanches in several ways:
More moisture in a warmer atmosphere can fuel more extreme snowstorms, which means bigger avalanches.
Warmer temperatures can make snow layers collapse and slide.
More rain-on-snow events also destabilize snow layers.
Warmer temperatures and more rain falling on snow will also increase the risk of mountain avalanches transporting large amounts of water, mud and debris. Such slush-flow events are now more common in Norway and Russia.
"You get water-saturated flows that carry debris, and they will probably move very fast. That's something that we're worried about," Barthelt said. "Anything that changes the thermodynamics is something we have to think about," he said. "Snow is a very interesting material because it exists near its melting point. It's a reactive agent in all of these processes."