A Conversation with Katharine Hayhoe – Climate Scientist and Evangelical Christian
Katharine Hayhoe is a climate scientist, professor in the Department of Political Science and director of the Climate Science Center at Texas Tech University. She is also an award-winning climate communicator and has been named one of TIME's 100 Most Influential People, Foreign Policy's 100 Leading Global Thinkers, and an American Geophysical Union's Climate Communication Prize winner.
Read the entire article at GreenBiz.
Katharine Hayhoe:
Climate change is not just an issue of science. More science is not the most important thing we need to make more proactive decisions. Our main problem is that we haven't connected that science to the risks people can actually understand. I realized I needed to provide a service to people by telling them it really is serious, and we need to start fixing it now before it's too late. But like one of those Old Testament prophets who's telling people that the doom is coming if we do not change our ways, many don't want to listen to what we have to say.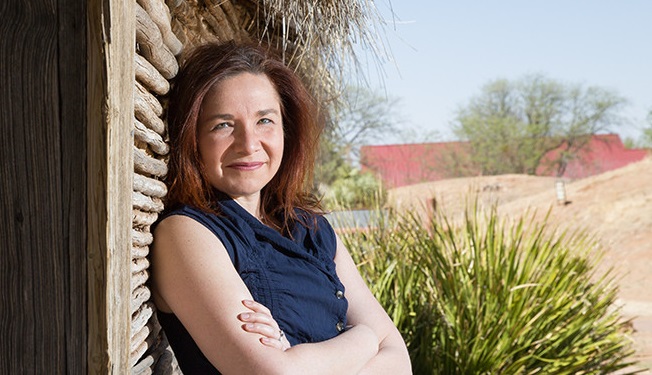 Photo by Ashley Rodgers
Back a decade or two, you would be hard pressed to point to obvious impacts of climate change that had an adverse effect on most people. But that is changing. People might not be willing to say it's human-caused, but they now are willing to say, "Well, that drought was not what we're used to." This wildfire season was unusual. That hurricane was like nothing we've ever seen before. And because of that, many more people are interested in talking about it now.
Much of our lack of adaptation is due to our infrastructure. We have tens of trillions of dollars of infrastructure, from cities and ports to highways and wastewater treatment plants, built for conditions of the past, not the future. We have built our vulnerability to climate into the very fabric of our society and our civilization. Add to that the fact that we place no value or cost on carbon emissions, yet carbon emissions are already wreaking devastation on our economy. Unchecked, those costs could grow to as much as 20 percent of global GDP by 2100.
At its core, climate change is a tragedy of the commons that shows us that unless we work together, we will fail. But unfortunately, we humans are notoriously bad at working together for the common good. The best advice for anyone who wants to engage with others on climate action is to start in our own communities. Begin with the people who share your values, and open your heart. Communicate why you care so passionately about this issue and why you think they might too, because of the same values. Connect with and plug into organizations and groups who share those values. When bridging between communities and sectors, ask questions and listen and learn what they care about, so you can effectively identify the connections to climate change and thereby the common ground.
The biggest thing I've learned is that if we want hearts to change, we have to learn to communicate from our hearts rather than our heads.