Tesla Tiny House Integrates Solar with Powerwall
Read the entire article at TreeHugger.
Automotive and energy storage company Tesla's innovations and concepts have been capturing the popular imagination for some time now, making electric cars aspirational and sexy, making waves with its solar roof shingles and disrupting the fossil fuel status quo with its massive, grid-scale batteries. The company is now making a foray into the tiny house market, with a modern structure equipped with its Powerwall and is towed by the Tesla Model X. The Tesla Tiny House is now making its way around Australia on a tour that goes on until the end of November.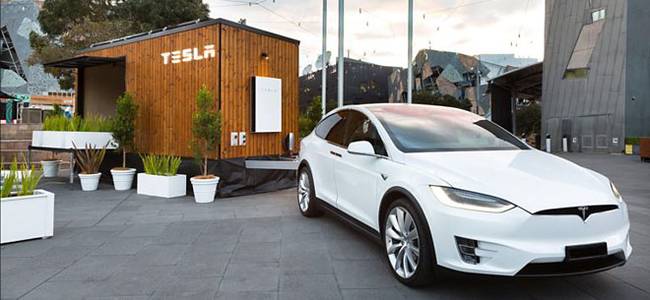 It's a whole Tesla-branded package, from the 2kW photovoltaic system of 6 solar panels on the roof, which is connected to the USD $5,500 Powerwall, a lithium-ion battery pack which can store energy for later use. The inside of the Tesla Tiny House is a "design studio" that allows visitors to design their own home solar power system on a screen all the lights and electronics are powered by the sun, and everything can be controlled and monitored via a Tesla app. 
The tour is designed to provide a one-on-one educational experience on how to integrate Powerwall and solar to seamlessly power an entire home 24/7, allowing Australian consumers to gain control and understanding of their power use. The house itself is made from locally and sustainably sourced lumber, and measures 20 by 7 feet (6 by 2.2 metres). It weighs 2 tonnes (4,000 lbs.) and can be towed by the Model X, which has a towing capacity of 5,000 lbs.
Being Tesla, the price point will likely be high, especially if you roll in the Model X into the package. But the concept is neat: a smaller home with a lighter footprint, towed by an electric car, and everything being powered by the sun. The tiny house tour is one of Tesla's new projects launching in Australia; the company will be building the world's largest battery installation in South Australia, but it has yet to offer solar panels in the country, though that will likely change soon.