Hong Kong's Multi-Decade Creative Solutions for Water Management
Read the entire article at CitiScope.
When it comes to water, Hong Kong is in a paradoxical situation. This city of more than 7 million people has few reliable sources of drinking water. There's no major river or natural lake to draw from. Groundwater is scarce and difficult to reach. And the city's hilly terrain makes it difficult to create reservoirs. Under such a crunch, Hong Kong depends heavily on water imports from China's Guangdong province.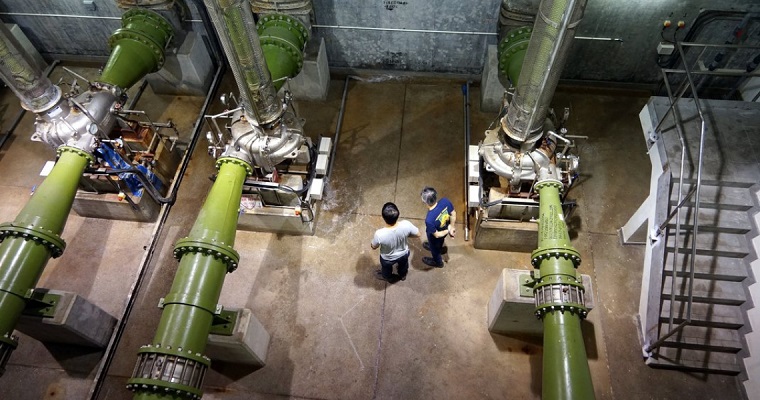 On the other hand, Hong Kong is one of the wettest cities in Asia. The city regularly sees tropical storms drop heavy rains. The runoff rushes down from the mountains into the city's dense urban core, causing frequent flooding and waterlogging in low-lying areas where land has been reclaimed from the sea.
All of this makes Hong Kong a place with more than its share of water problems. But it also makes the city a good place to look for interesting solutions. One of those ideas has been around since the 1950s but remains an anomaly today among the world's cities. And you can find it in the form of a special water pipe attached to almost every toilet in the city.
Instead of flushing its scarce freshwater supplies down toilets, Hong Kong uses seawater. The water is pumped from 42 treatment plants on the coast through a massive network of pipes carrying water into businesses and residences just for toilet flushing. Using seawater for this purpose reduces the city's freshwater consumption by 20 percent.
At one of the treatment plants in Wan Chai, a bustling business district jammed with high-rises, engineer Season Chan showed me how it works. Four mammoth pumps pull in water from the sea. The water passes through wiry mesh gates that filter out aquatic creatures, floating plastics and other debris. Then the seawater gets treated — not as intensively as if it were for human consumption, but in a creative way that costs almost nothing.
An electric current is passed through the seawater, triggering a reaction with the salts called "electro-chlorination". That produces hypochlorite, which not only disinfects the water but also kills the foul seawater smell. "After decades of research and trials, we have made seawater flushing not only cost-efficient, but expanded the supply to nearly all of Hong Kong," Chan says.
This system got started in 1957, as Hong Kong's growing population began straining its water supply, and riots over water access became common. Public housing in two newly developing areas was set up with the proper piping. The experiment was seen as a success and inspired city planners to expand the concept to other districts.
Hong Kong's other problem — heavy rains — has pointed the city to a different set of water solutions. And the best place to find them is at a set of sporting fields close to where the city's lush green mountainsides flatten and disperse into busy streets and tall buildings.
The Happy Valley Recreation Ground has 11 fields, a jogging track, and a horse racing course surrounding the periphery. It's one of the biggest open spaces in Hong Kong, and it's popular with people of all ages. One recent afternoon, a group of toddlers was warming up for a rugby match, while other youths played football on an adjacent pitch and a group of old men jogged slowly around the track.
Just below the fields is a massive underground storage tank. During heavy rains, the tank fills with runoff flowing down from the mountains, and temporarily holds it there to prevent it from inundating the city below. The tank can hold 60,000 cubic metres of water, or roughly the equivalent of 24 Olympic-sized swimming pools.
"We have no space to store water that is gushing from the hills into the urban areas," says Cheng, adding that 40 percent of Hong Kong is declared a nature reserve and all the other land is built up. "Going underground is the only way out. And Happy Valley Recreation Ground became a natural choice."