China Breaks Ground on First "Forest City"
Read the full article at Inhabitat. 
A pollution-fighting green city unlike any before is springing to life in China. Designed by Stefano Boeri Architetti, the first "Forest City" is now under construction Liuzhou, Guangxi Province. The futuristic city will use renewable energy for self sufficiency and be blanketed in almost 1 million plants and 40,000 trees—a sea of greenery capable of absorbing nearly 10,000 tons of carbon dioxide and 57 tons of pollutants annually.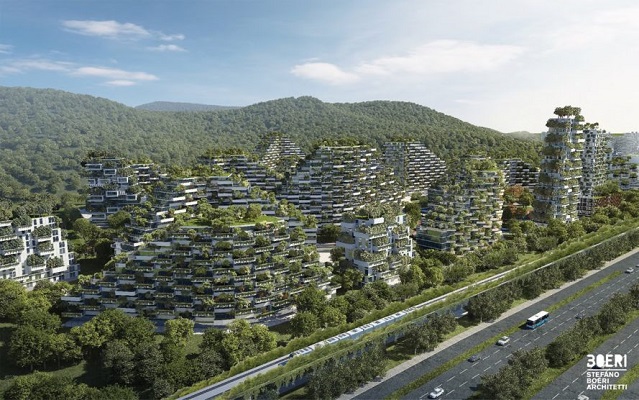 This first Chinese Forest City will host 30,000 people in a community where all buildings are entirely covered in nearly a million plants of over 100 species, as well as 40,000 trees, that produce approximately 900 tons of oxygen. The use of greenery-covered facades builds on Stefano Boeri's previous works, including the Vertical Forest residential building in Milan.
The new green city will be entirely wired and connected to Liuzhou with a fast rail line used by electric cars. Powered by geothermal and solar energy, Liuzhou Forest City will include residential areas, commercial and recreational spaces, two schools, and a hospital. The project is slated for completion in 2020.
The architects write: "The diffusion of plants, not only in the parks and gardens or along the streets, but also over building facades, will allow the energy self-sufficient city to contribute to improve the air quality (absorbing both CO2 and fine dust of 57 tons per year), to decrease the average air temperature, to create noise barriers and to improve the biodiversity of living species, generating the habitat for birds, insects and small animals that inhabit the Liuzhou territory."