How Rising Seas and Coastal Storms Drowned the U.S. Flood Insurance Program
Read the entire article at YaleEnvironment360.
Sea level rise and more severe storms are overwhelming U.S. coastal communities, causing billions of dollars in damage and essentially bankrupting the federal flood insurance program. Yet rebuilding continues, despite warnings that far more properties will soon be underwater.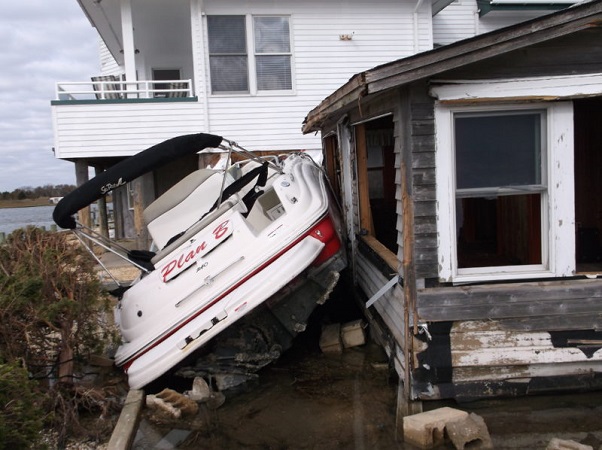 The federal insurance program has subsidized thousands of risky properties along the coast by charging them below-market premiums. Sea level rise played an important role in Sandy, with historic flooding from Delaware to the Battery in lower Manhattan. Upward of 100,000 people experienced flooding who otherwise would have been dry, researchers estimate. Most late season hurricanes veer out to sea by the time they reach the mid-Atlantic. Sandy took a hard left-hand turn, crashing ashore near Atlantic City and pushing a five-foot plume  up the bays, into places water had never reached before.
Dave Rinear's small bungalow on Cedar Bonnet Island – a smudge mark of sand and sedge located just behind Long Beach Island – had the misfortune of facing a vast, open fetch of Barnegat Bay. Surges from Sandy lifted a 24-foot speedboat named Plan B from its winter mooring and launched it into Rinear's cedar shake cottage, blowing out a wall and washing away most of the contents, including 50 years worth of prized fishing journals. "Talk about laser-guided misfortune," the 72-year-old retired professor moaned. "That thing came up the bay like a laser-guided missile with my name on it."   
Rinear's bungalow was totaled. But he filed a claim with the National Flood Insurance Program (NFIP) and received enough to help him rebuild a larger new house on the same footprint. In all, the federal flood program paid out $8 billion in Sandy-related claims. More than $2 billion went to property owners in Ocean County, including $200 million on Long Beach Island. That was nearly twentyfold what island property owners had collected in the prior 35 years of the program. 
Today, the NFIP is effectively bankrupt. It owes the U.S. Treasury nearly $25 billion – money it borrowed from federal taxpayers to cover its obligations in Sandy, Katrina (2005), and Hurricane Ike (2008). No one expects that money to be repaid. Some coastal state lawmakers are even calling for Congress to write off the massive debt, contending it is the only way the troubled insurance program, which is up for reauthorization this year, can regain its financial footing. 
The NFIP also lacks a reserve fund to help cover losses from catastrophic storms like Sandy. Instead of charging a little more and setting aside money, the way private insurers do in other lines of business, the federal flood program relies on the U.S. Treasury – taxpayers – as its financial backstop, or reinsurer. In 2013, the NFIP finally added a 15 percent assessment to its flood policies, and gradually built up about $1 billion in reserves. But an epochal 2016 flood in Louisiana used up that money. 
Over time, the government flood program has become the insurer of last resort in vulnerable coastal floodplains for second homes, oceanfront mansions, investment properties, and more modest homes stacked along the nation's back bays and sounds. With so much property in the line of fire, it is unsurprising that the price tag for disaster aid and flood losses keeps increasing. And with rising seas and bigger, more violent storms, it will likely get worse. In 2013, researchers estimated that a major hurricane slamming into Tampa could cause upward of $175 billion in damage.