The story behind This Spaceship Earth's Bird's Eye View video
You can view our Bird's Eye View video here.
It's not that we don't have the tools and technologies to effectively address the coming climate catastrophe. Or even that we don't have the money… a full scale crusade on all fronts would create a planetary economic boom. It's that we, as the apex species on the planet, don't have the will.
It's easy to become motivated as a society when there's a clearly visible enemy – when nations are at war, people are being violently killed, and buildings are being blown to bits. Climate change is less visible. Greenhouse gases are odorless and colorless. The effects of climate change (so far) have been slow moving and easy to ignore.
Motivating people to become active crew members of This Spaceship Earth (instead of passive passengers), so that they become a part of the solution rather than part of the problem, is our mission. What we do is help people to understand the complex and obscured processes of climate change, so that they internalize the magnitude of the danger to humanity (and many other species), and develop "crew consciousness."
One of the best ways to accomplish this is to "show, not tell." It was with this in mind that Tim Rumage, planetary ethicist and co-founder of This Spaceship Earth, first had the idea for an art installation to illustrate sea level rise. Tim is also the Chair for Environmental Studies at the Ringling College of Art + Design. Both RCAD and TSE are headquartered in Sarasota, FL. The beach voted #1 in the USA is Siesta Beach which is located on a barrier island just off the coast of Sarasota.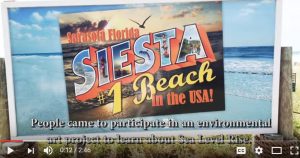 Florida is the state most at risk for sea level rise. With its flat topography, Siesta Beach is especially vulnerable. The local economy is highly dependent on tourism and real estate (beach front property is highly prized and priced accordingly). Many local citizens make their living in Sarasota's beach economy. They don't want to believe that sea level rise will damage that economy.
Tim noticed that the term "sea level rise" is incomplete. When faced with a statistic like "eight inches of sea level rise by 2030", people dismissed it… thinking it wasn't a big deal. Tim understood that it was a very big deal. As a scientist he had done the field work, and the calculations. An eight inch vertical rise in sea level translates to hundreds of feet of horizontal "run" across the sands of a flat beach.
So how best to show people what that meant to the future of America's #1 beach?
We had done a prior art installation – The Rise and Run – on sea level rise at nearby Lido Beach.  In that project, we flagged the current high tide line and the projected high tide line of 2030 based on NOAA/NASA analysis. While that project was effective for those at the beach who could see and walk the installation, the project did not reach the scale of public awareness needed to promote a community-wide discussion on sea level rise and its economic, social and environmental impacts. To evolve the consciousness of local citizens, we needed to find a way to clearly and honestly display the information with sufficient visual impact. Given the expanse of Siesta beach, the logical perspective was from a Bird's Eye View.
The idea was to combine two important ingredients together:  the participation of local citizens and the use of drone photography. We had learned from the Rise and Run that when people actually walked the beach to the current and future high-tide lines, they were shocked and their understanding of Sea Level Rise was profoundly changed. So, how could we transform that experience for a larger audience? This drove the idea of having citizens hold hands along the high tide lines of 2016, then walk back to the projected high tide line of 2030, and then to the 2040 line.
Early on a beautiful Saturday morning in October 2016, people arrived from all around the local area to learn, share and participate in this performance art project. Holding hands at each of the tide lines, all the participants bonded over the truly unsettling reality of sea level rise. An eight- inch rise in sea level by 2030 means a horizontal run of several hundred feet. The projected two to four feet sea level rise by 2040 meant that there would be no beach or parking lot. This brought home the reality of what the future of the #1 beach in America will be.
The video graphically depicts a future that nobody wants. As more people understand the gravity of the situation, evolve how they think about climate change, and evolve their behaviors, we can avoid the direst effects. We have no time to lose. Every day that passes brings us closer to a point of no return. Please view our Bird's Eye View video here and share it. We, at This Spaceship Earth, will be creating and deploying other art installations around the world to show people what is happening and to impart the will to meet the challenge.