Nature Produces Abundance Without Waste… Why Can't We?
During the Rio de Janeiro Olympics this summer, barriers will be installed across the fourteen dying rivers that empty into Guanabara Bay. The barriers are to keep garbage from floating into the paths of Olympic sailors. In the bay itself, a fleet of boats will patrol to keep debris from causing any mishaps and potentially costing someone a medal.
Rio has a major problem. It's swimming in its own garbage. The pollution of Guanabara Bay is a direct result of Rio's rapid industrial expansion. Most of the bay's wildlife has been killed by the untreated sewage and industrial waste that pours into the bay every day. Broken appliances, plastic bottles and floating paper packaging are a much more common sight than fish.
It isn't just Rio. Across the developing world, economic expansion trumps environmentalism. People in Beijing are willing to trade their lungs for the opportunity to own a car. 60% of the garbage produced by the Delhi megalopolis is dumped directly into the Yamuna River. The list goes on and on.
Developing countries want their chance at the good life. They want to live a life of comfort surrounded by labor-saving devices, and to have the time and money to enjoy amusements and entertainment – the way we've enjoyed life in the West for a good part of the past century.
How might we continue saying "Yes" to abundance and a high standard of living (indeed, expand that lifestyle to include people around the world)… while also saying "No" to toxic waterways, ever growing mountains of garbage, air pollution and the rest?
"Houston, we (might) have a solution."
A comment by Jodi Smits Anderson to my last LinkedIn article made me stop and think:
"I suggest part of what will happen is that we learn to not equate 'smart' with 'less'. In your sentence including 'less consumption, more conservation' it implies that we restrict ourselves. No. What we do is figure out consumption (and innovation/manufacturing) with no negative side-effects, or at least fewer side-effects. Like nature, our waste will be food for another system, so we can purchase without fear of poisoning ourselves over time. It's a different understanding of consumption, and pivotal to our future market systems."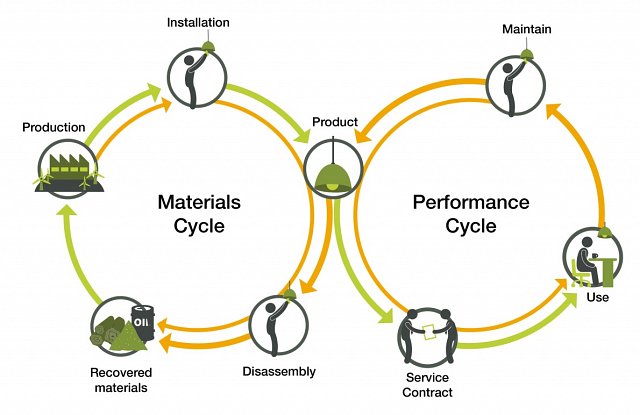 It's not just "reduce, reuse, recycle."
I had taken the environmentalist mantra, "reduce, reuse, recycle" (in other words, do more with less in order to minimize damage) as gospel. Jodi was suggesting a new paradigm. So I did some research. I learned that Bill McDonough, the architect and designer, has formulated a design principle which he lays out in his book Cradle to Cradle. He demonstrates that "reduce, reuse, recycle" is based on a 'cradle to grave' design model that dates to the Industrial Revolution. This process casts off as much as 90 percent of the materials it uses as waste, much of it toxic. Mr. McDonough challenges the notion that human industry must inevitably damage the natural world.
Could we model our own product design on Mother Nature's? A tree produces thousands of blossoms in order to bear fruit, yet that abundance isn't wasteful. It's safe, beautiful, and highly effective. The blossoms fall away to biodegrade and enrich the soil. If not picked, the fruit is eaten by birds and seeds are distributed to produce more trees. Products might be designed so that, after their useful life, they provide nourishment for something new – either as biological nutrients that safely re-enter the environment, or as industrial nutrients that circulate within closed-loop production cycles, feeding the manufacture of other goods.
Mother Nature has her own waste disposal solutions that have been evolving for millions of years. In nature nothing is wasted. Waste not, want not. All things that were once alive eventually become part of the earth again, returning usable resources.
So why not study how nature produces abundantly without waste?
Biomimicry
There's an established science that analyzes nature's ideas and adapts them for human use. It's called biomimicry. As near as I can tell, the scientific breakthroughs so far have been deployed to build better products – lighter, stronger, faster, etc. What if biomimicry scientists (biomimicists?) tackled Bill McDonough's closed loop, zero waste, cradle to cradle design challenges?
By all means, we should continue to reduce, reuse and recycle; as well as develop sources of clean energy and green technologies to mitigate and adapt to climate change. I see now, though, that those are half measures. If we want to continue (and expand) our current quality of life, we should borrow design and production techniques from Mother Nature.
It's something to consider. Does it sound like science fiction? How soon could we make the transition? Who would pay for it?