Canada's Tar Sands Struggling
March has brought a string of setbacks for Canada's struggling tar sands oil industry, including the further delay of two proposed pipelines, a poor forecast for growth and signs that investors may be growing wary.
Read the entire article at Inside Climate News.
On Friday, a federal appeals court in California refused to lift a lower court order that blocks construction of the Keystone XL pipeline until a thorough new environmental assessment is completed. The decision likely pushed back by a year the start of major work by TransCanada, Keystone XL's owner, to complete the project. The same day, ExxonMobil affiliate Imperial Oil said it was delaying a new tar sands project in Alberta, likely by a year.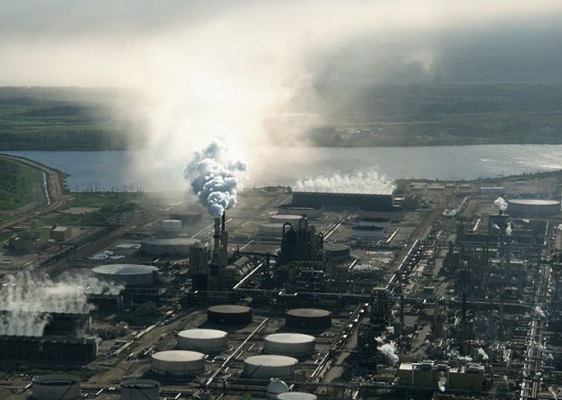 Those setbacks followed an earlier announcement by Enbridge, another pipeline operator, that it would delay the completion of its Line 3 expansion through northern Minnesota by a year, to late 2020. That project is one of two other major pipelines planned to carry oil out of Canada's tar sands, also called oil sands.
While western Canada's production grew slowly but steadily in recent years, companies struggled to complete new pipelines. Opposition from climate activists and indigenous groups, slow regulatory processes and volatile oil prices have led to a series of delays and cancellations. The effect has been to weaken the prospects of future growth in tar sands production and to drive away investors.
Last year, the provincial government in Alberta—home to nearly all of Canada's tar sands—said it would curtail production this year in an effort to steady the market. By constraining supply, government officials hoped to boost prices that had been pushed down as companies struggled to export their oil. The government said the move was temporary, and at the time it expected Enbridge's Line 3 to ease pressure in late 2019. With that project's start date now pushed back by a year, and with Keystone XL likely delayed too, investors are growing jittery about Canada's oil sector.
"They want stability, they're looking for sign posts," said Kevin Birn, an analyst with IHS Markit in Canada. But the only signs so far have been continued uncertainty, he said, and it's having an effect. "For oil sands, we're seeing the lowest investment in 15 years."