Key Races Across US Reveal Climate Action is a Winning Issue
Candidates who embraced policies to fight climate change and expand clean energy won the favor of voters in the 2018 mid-terms. In 2016, Rep. Peter Roskam (R-IL), a climate science denier, won reelection by nearly 20 points. Election Night 2018 was a different story, however. Roskam was easily defeated by Democrat Sean Casten — a clean energy entrepreneur who made climate action and clean energy his signature issue. Casten earned 53 percent of the votes, compared to Roskam's 47 percent.
Read the entire article at ThinkProgress.
Casten told voters that global warming is "the single biggest existential threat we face as a species," and he ran a campaign ad criticizing Donald Trump for calling climate change "a hoax."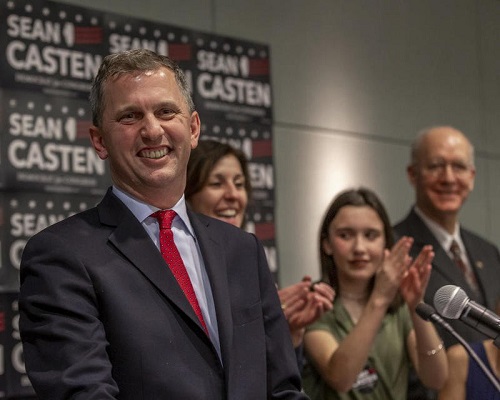 In the Colorado governor's race, Democrat Jared Polis campaigned on a commitment to transition the state to 100 percent clean energy by 2040 "for our climate, for our national security, for our health, and for our economic growth." It would be the most ambitious state target in the country, but the state is uniquely rich in both wind and solar power, as well as being home to the U.S. National Renewable Energy Laboratory.
Polis easily defeated Walker Stapleton, George W. Bush's second cousin and a strong proponent of developing fossil fuels in the state.
In the New Mexico governor's race, Democratic Rep. Michelle Lujan Grisham advocated for the state's grid to be half renewable energy by 2030 — a sharp contrast to term-limited Gov. Susana Martinez (R) who repeatedly vetoed pro-solar energy bills passed by the state legislature.
Tuesday night, Grisham easily defeated GOP Rep. Steve Pearce, who ran an oilfield services company before becoming a congressman — and whose single biggest source of campaign cash over his career has been the oil and gas industry.
"I want to move us to a renewable portfolio that gets us to a 50 percent renewable standard by 2030 and 80 percent by 2040," Grisham told the NM Political Report in April. "I want to have New Mexico join the Paris Climate Accord."
Hopefully, the results of the 2018 election will send a powerful signal to politicians of all parties that the voters want to see progress on climate action and clean energy.