10 Giant Companies Commit to Electric Vehicles
Read the entire article at InsideClimate News.
A coalition of global corporations, including Unilever, Ikea and shipping giant DHL, launched a global campaign today to accelerate the shift to electric vehicles and away from gas- and diesel-powered transportation—which generates almost a quarter of energy-related greenhouse gas emissions worldwide and has been the fastest growing emissions source.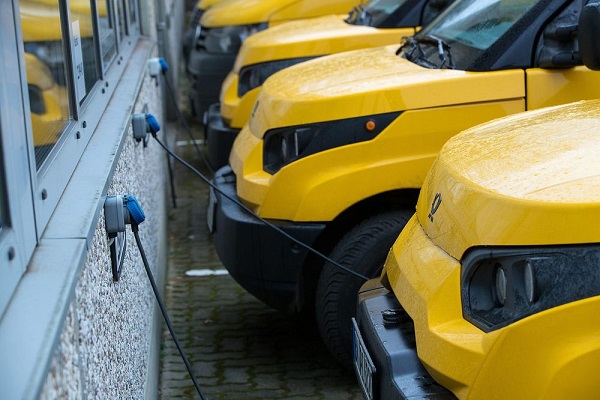 Since more than half of the cars on the road belong to companies, the new EV100 coalition could have a major impact. It aims to do for EVs and electric car charging infrastructure what coalitions such as the RE100 are already doing to encourage corporate purchasing of clean energy (and thus motivating development of new solar and wind power).
EV100's goal is to send a signal to automakers that there is mass demand for electric vehicles before 2030, when current forecasts suggest global uptake will start to really ramp up. "We want to make electric transport the normal," said Helen Clarkson, CEO for The Climate Group, the international nonprofit spearheading the effort.
Government pressure is already adding to that signal in Europe and Asia: France and the UK have given automakers a 2040 deadline to end the sale of new gas-powered cars; China recently indicated it would set its own deadline; India has suggested it is moving toward 100 percent electric vehicles; and Chancellor Angela Merkel hinted last month that Germany may follow suit. Automakers have been responding by expanding their EV fleets, as showcased at last week's Frankfurt Motor Show.
Among the 10 companies that launched EV100 with a goal of getting to 100 members, seven are committing to replacing part or all of their vehicle fleets with hydrogen-powered or plug-in electric cars—either fully battery electric or plug-in hybrids that combine grid-charging and a conventional engine. Others, such as Ikea and PG&E, have committed to building the charging stations that make electric cars more practical.
Germany's Deutsche Post DHL Group, a global delivery company, purchased EV startup StreetScooter to build its own homegrown electric delivery vans. European power plant operator Vattenfall plans to replace its 3,500-car fleet with plug-ins over the next five years.