Artist Demonstrates the severity of Beijing's Pollution
Read the Full Articles on http://www.nytimes.com/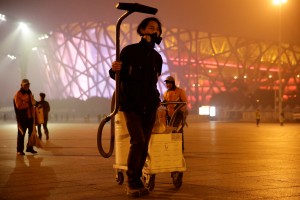 Beijing has been swamped for days in a beige-gray miasma of smog, bringing coughs and rasping, hospitals crowded from respiratory ailments, a midday sky so dim that it could pass for evening, and head-shaking disgust from residents who had hoped the city was over the worst of its chronic pollution.
But "Brother Nut," a performance artist, has something solid to show from the acrid soup in the air: a brick of condensed pollution.
For 100 days, Brother Nut dragged a roaring, industrial-strength vacuum cleaner around the Chinese capital's landmarks, sucking up dust from the atmosphere. He has mixed the accumulated gray gunk with red clay to create a small but potent symbol of the city's air problems.